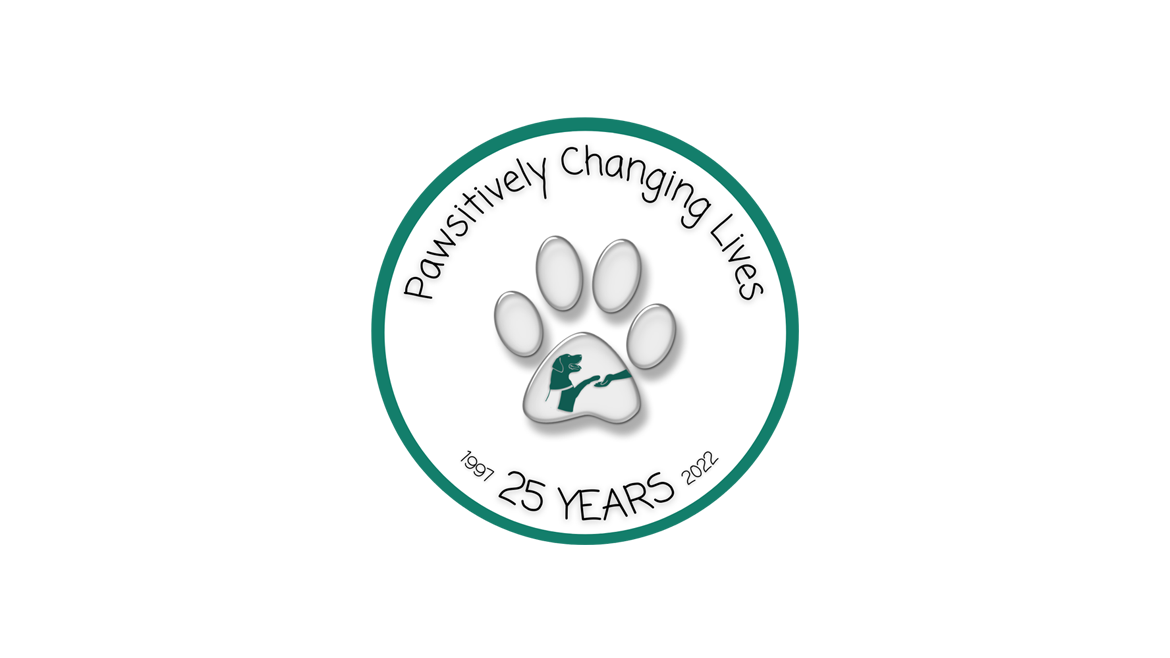 My, How You've Grown!
---
Pawsitive Teams Celebrates its 25th Year
Think back to 1997, if you were even born:-) Two women, Carol Davis and Charli King, in the Rancho Bernardo neighborhood of San Diego, were puppy raisers for a local service dog training organization. They would spend many, many months working with and loving these pups. When the pups were ready to move out and onto formal service dog training, Carol and Charli were invited to observe the beginning of that next step. They watched the trainers and met some disabled individuals who were learning how service dogs could make an indescribable difference in their lives. That's when the seed was planted—Carol and Charli wanted the whole package—they were excited to create Pawsitive Teams so they could see a service dog pup in training from eight-weeks old all the way through placement with a mobility-disabled individual in San Diego County. They were passionate volunteers then, and they're passionate volunteers now. 
Today, alongside a very small paid staff, Carol, Charli, and an amazing group of passionate volunteers are still the foundation of our success. Our volunteers blend with the magic of the dogs to sustain us all these years. We now have a strong Service Dog Program, Facility Dog Program, and Therapy Dog Program. And a very popular Therapy Dog Prep School.
Where we work and train
We have a beautiful and comfortable 5,000-square-foot Training Center in San Diego. Now imagine the trainers, handlers, and all manner of tail-wagging canines working in this space towards a common goal—to improve the lives of special-needs San Diegans.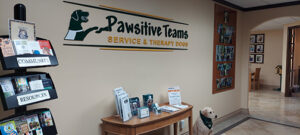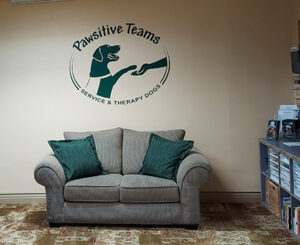 We've educated over 800 students in Therapy Dog Prep School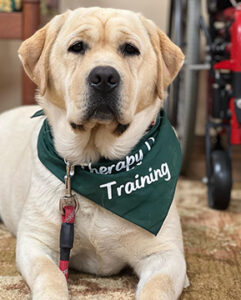 Along the way, Carol and Charli created the popular Therapy Dog Prep School which has been host to over 800 students and their pet dogs—and that's at a super low class size of 10 dogs in order to give plenty of attention to the students and their dogs. Some of those students have taken the next step after Prep School and become certified therapy dog teams with Pawsitive Team's goal-directed therapy programs.
The Therapy Programs are almost back to full speed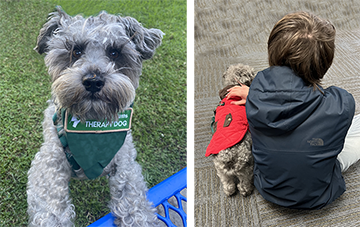 Our long-running and goal-directed therapy dog programs took the biggest hit due to the COVID-19 pandemic. All of our programs were shut down for many, many months as the Pawsitive Teams COVID-19 Rebound Task Force was formed to guide us about how to safely bring them back.
Our service dog program is stronger than ever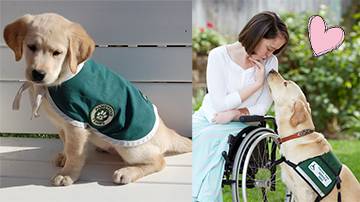 This was the "seed" program of Pawsitive Teams in that training and placing service dogs was the original dream of the co-founders. And as has been our model from the beginning, our service dog pups in training live with their trainers from eight weeks of age until they are fully placed with mobility-disabled partners at about two years of age. So that means that Carol and Charli and a cadre of dedicated and talented trainers have been training constantly since 1997!
A small but powerful facility dog program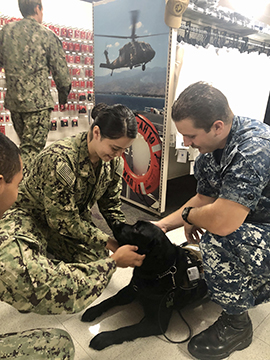 While we place each of our service dogs with one disabled individual, the reach of our facility dogs is broad. We train our facility dogs alongside our service dogs so they too have superior skills. For example, facility dog "Cork" in the photo is assigned to a recreation therapist at Naval Medical Center—the two of them work together to support our active duty troops.
25 Stories for 25 Years
Watch for our unique series on Instagram and Facebook throughout this celebratory year. LIKE us, and we'll bring you compelling, touching, and sometimes hilarious video stories from behind the scenes of our service dog, facility dog, and therapy dog worlds. 

What's our goal for the next 25?
We have a great thing going, so we want to INCREASE OUR REACH to the special needs community and share the power our dogs have to heal, support, and love. We have an incredibly strong foundation to build upon.

How do we do that? 
Bring in and support more service dog trainers and pups.
Place more service dogs and facility dogs with each passing year.
Certify more top-quality therapy dog teams.

Create more relationships with San Diego-area organizations and schools to share the power of therapy dogs in reaching their goals.

And y

es, we'll run fundraising campaigns to support all of the above!
I cannot be prouder to be part of this special journey we're on together. Here's to that next 25!
Margery Squier
Director of Programs & Training
[email protected]