Pawsitive Teams Service Dog
Pre-Application for a Non-Veteran in San Diego
Pawsitive Teams guarantees that decisions regarding placement are made without prejudice to all persons regardless of race, color, creed, national origin, age, religion, sex, sexual orientation, veteran status, financial status, marital status, or disability.
Before completing the pre-application, make sure you can answer YES to all of the following questions in order to qualify for a Service Dog placement:
Do you live in San Diego?
Do you plan to remain in San Diego for at least 12 months?
Do you have a mobility-limiting disability?
Before you click on the bone to start the pre-application process, please review all the information on this page to get an understanding about how we team up a handler with a service dog.
Click to start THE Service Dog
pre-application process for A NON-VETERAN
After Pawsitive Teams receives your Pre-Application form, our Applicant Coordinator will contact you within two weeks to confirm receipt of your information. If you don't hear from us within the two-week period, please send an email to [email protected]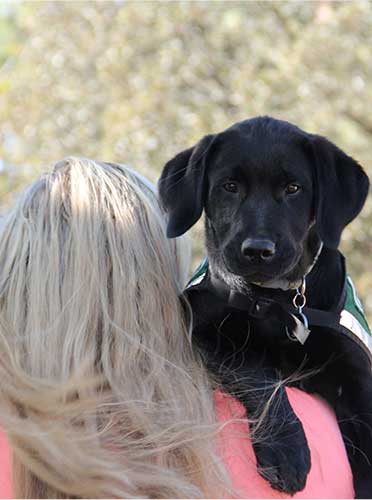 Financial Commitment
The applicant will be required to pay a $50 non-refundable Application Fee. Once a potential match has been identified, the applicant will be expected to contribute towards a portion of the cost of preparing the service dog during the two years it is in the training program. The placement fee is $2,000. Pawsitive Teams will provide help and guidance if assistance is needed to complete this requirement. No person will be denied the opportunity to be considered as an applicant because of limited financial ability. Applicants and graduates are not required to participate in fundraising or public relations activities to support Pawsitive Teams.
We wish we could provide a dog to each person who contacts us, but we are careful not to make promises we can't keep as the match between dog and disabled handler is an important part of the formula for a successful team. We do not place dogs based on the date a person first contacts us. Because we are a small program and cannot guarantee a match for every applicant, we urge individuals to apply to more than one organization. We encourage you to check the website, Assistance Dogs International as they have links to all their members organizations.
Accreditation with

Assistance Dogs International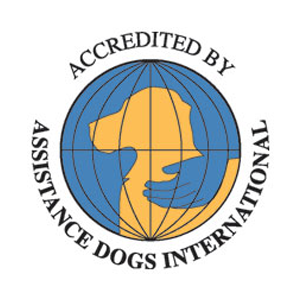 Pawsitive Teams is an accredited program with Assistance Dogs International and meets all minimum standards set by this organization. We were first accredited in 2006 and are required to pass re-accreditation every 5 years to maintain active status.
Assistance Dogs International (ADI) is a coalition of not-for-profit organizations that train and place Assistance Dogs. The purpose of ADI is to improve the areas of training, placement, and utilization of Assistance Dogs as well as staff and volunteer education. Members of ADI meet regularly to share ideas, attend seminars, and conduct business regarding such things as educating the public about Assistance Dogs, and the legal rights of people with disabilities partnered with Assistance Dogs, setting standards and establishing guidelines and ethics for the training of these dogs, and improving the utilization and bonding of each team.