Welcome To
Pawsitive TEAMS
Pawsitive Teams was founded in 1997 with a desire to be a volunteer-inspired and volunteer-run organization designed to promote the use of well-trained dogs to improve the lives of San Diegans. Our volunteer service dog trainers spend two years with their canine charges prior to placement with individuals with limited mobility who can benefit from the skills of our specially trained dogs. Our therapy dog program is overseen by a steering committee of volunteers dedicated to using therapy dogs with a variety of populations such as at-risk teens, active-duty military, children testifying in court, and those with mobility or developmental disabilities. Our mission with the therapy dogs is to partner with community organizations and work together with professionals in accomplishing client-related goals.
Our
Mission
The mission of Pawsitive Teams is to enhance the lives of individuals with special needs who live in San Diego County by using the skills of highly trained service and therapy dogs.
Our
PROGRAMs
SERVICE DOGS: program-trained dogs matched with San Diegans with limited mobility.
FACILITY DOGS: program-trained dogs matched with professionals who use the dog in the workplace to accomplish client-related goals.
THERAPY DOGS: certified volunteer therapy dog teams assisting professionals at select facilities in San Diego to accomplish client-related goals.
Enhancing The Lives Of
SAN DIEGANS
Our programs are designed to help people with disabilities who live in San Diego County. We customize our programs to meet each person's unique needs and provide ongoing long-term support and training for the life of the service animal.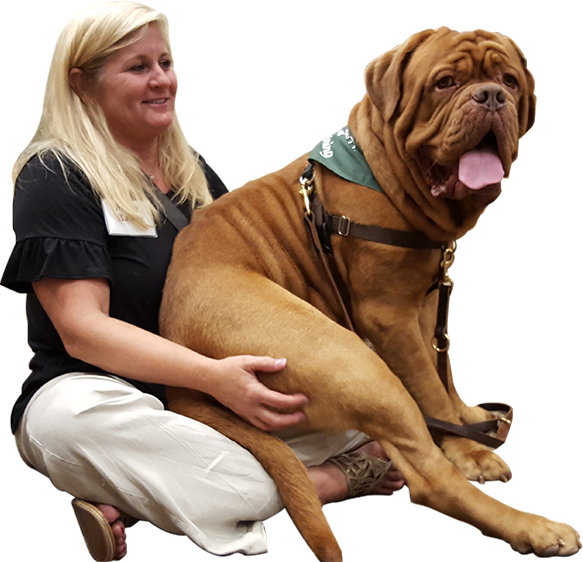 Give Today To
Support Our Tomorrow
In order for us to be able to provide these special programs in San Diego, we rely on gracious donations from individuals who believe in the power of dogs to improve the lives of people. Thank you for your support!
"Therapy program volunteers for Pawsitive Teams (PT) are a supportive pack of humans and dogs with a common set of positive goals for improving the lives of those in need. We volunteer with our dogs to share, connect, and develop a cohesive team. I'm so grateful to have the golden opportunity of sharing the magical "chi" of my Czech Shepherd, Kai, to help At-Risk Youth and Military Veterans living with... read more
Larisa C., a therapy program volunteer
"Pawsitive Teams has had a huge impact on my son and our entire family's life! Isaac was in a horrific car accident in Oct. 2017 that severed his spinal and left him paralyzed from the chest down. After many months of rehabilitation and therapy, he was still struggling to do so many things. We had to sleep in his room every night to assist him. Being paired with a highly-skilled... read more
Lisa C., mother of a teen service dog graduate
"My role as a school-based Speech Language Pathologist is to support students presenting with communication deficits. My goal is to enhance students' communication effectiveness to contribute their ideas, to develop meaningful friendships, and to increase their independence within a meaningful and engaging therapy environment. Collaborating with Pawsitive Teams has curated an environment in which students with complex communication needs thrive to further develop their expressive and receptive language as well... read more
Katie B., a Speech Language Pathologist at a San Diego City High School