The Pawsitive Teams Therapy Dog Program was designed from the beginning to only certify therapy dog teams in areas of underserved needs. Goal-directed therapy is significantly different from the usual "meet and greet" hospital and nursing home type of animal assisted activities. In the PAAT (Pawsitive Animal Assisted Therapy) program, the dogs are used both as a tool and a motivator to help clients (children and adults) achieve clearly defined goals as set by their therapist or teacher.
IMPORTANT NOTE: We've put a temporary hold on accepting inquiries about establishing new therapy dog program sites—we're at maximum capacity for the moment. Please check back again later!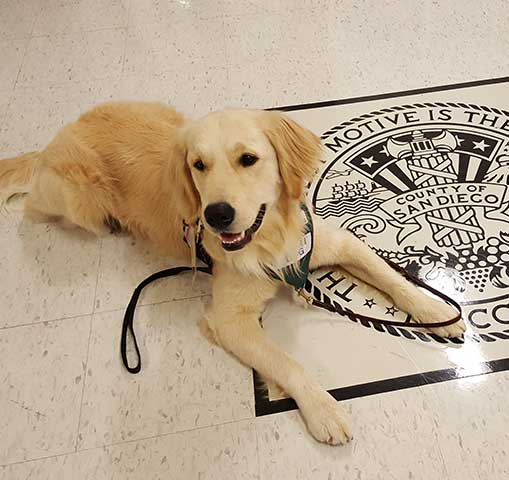 Pawsitive Animal Assisted Therapy (PAAT)
Handlers in goal-directed therapy are required to "think on their feet" as they will be requested to come up with activities their dogs can do to help accomplish the goals set by the professionals. This is different from other forms of therapy volunteering and involves far more creative thinking from the handler, who has to be actively involved with designing tasks for each interaction.
Prerequisites & Steps to Volunteering
Do you have questions about volunteering as a Therapy Dog Team with Pawsitive Teams? Contact us at [email protected].
BASIC PREREQUISITES
You, the handler of the dog, must be at least 18 years old.
You must be willing to complete a background check through Pawsitive Teams.
Your dog must be at least 18-months old when he/she begins our Therapy Dog Prep School.
STEPS TO VOLUNTEERING WITH PAWSITIVE TEAMS
COMPLETE THERAPY DOG PREP SCHOOL
You and your dog must complete the six-week Pawsitive Teams Therapy Dog Prep School. Prep School sessions are offered four times and year and fill quickly. Click here for Prep School details and the Prep School Registration Form.
ATTEND A PROGRAM INTRODUCTION PRESENTATION
Once you've completed Prep School, we'll contact you about attending a Program Introduction Presentation (without your dog) at the Pawsitive Teams Training Center; this one-time meeting will introduce you to all the therapy dog volunteer opportunities with us. It's generally held each February, May, August, and November.
SIGN UP FOR A TEAM EVALUATION
If you'd like to pursue volunteering with your dog, we'll ask you to sign up for a one-hour practical evaluation at the Pawsitive Teams Training Center. If you pass the evaluation, you'll be officially certified as a PROVISIONAL THERAPY TEAM with Pawsitive Teams. Congratulations! This certification will only be valid for volunteering at specific Pawsitive Teams therapy program locations.
VOLUNTEERING AT SPECIFIC THERAPY PROGRAM SITES
Once you and your dog complete all of the above prerequisites and are certified with Pawsitive Teams as a Provisional Team, we'll arrange for you to visit the therapy program sites that interest you. The first visit at each site will be without your dog so you can easily observe how the program runs and work with the Site Leader. You'll likely bring your dog with you on a second visit. You and the Site Leader at each site will determine if it's a good match for you and your dog and will guide you along the way.
WHAT DOES PROVISIONAL STATUS MEAN?
You'll be a Provisional Team for up to one year before becoming a fully-certified dog therapy team. During this Provisional period, you'll need to:
These Provisional requirements and timeline allow therapy program Site Leaders and workshop instructors the opportunity to see Provisional Teams in action and to offer clear guidance along the way.
ABOUT THE CANINE GOOD CITIZEN TEST
One of the common indicators of a well-behaved dog is if the dog has passed the AKC's CGC test. Beginning in July of 2022, we now require all new Pawsitive Teams therapy dogs to take and pass the CGC test by the end of the team's provisional period (up to a year after initial certification). To support you in your dog's road to the CGC test, we will periodically offer an in-house AKC-CGC Prep Workshop to our certified teams to help them understand the fundamentals of the CGC test. The workshop leaders will guide you about places to take the CGC test in San Diego County.