Since its humble beginnings, Pawsitive Teams has been volunteer-inspired and volunteer-run. With the exception of two part-time staff members, that is still true today. We have an exceptional Board of Directors and over 100 talented and compassionate volunteers working in a myriad of roles to keep our service dog, therapy dog, and facility dog programs in full force.
Our Federal Identification Number (EIN): 33-0851474
OUR FOUNDERS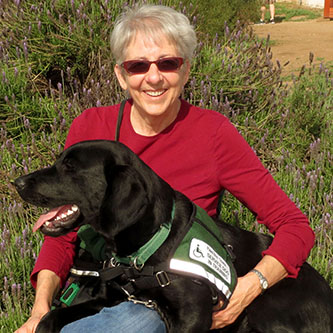 Carol Davis
Co-Founder
Former Director of Training
Carol developed a passion for training service dogs to assist people with disabilities when she volunteered as a puppy raiser for another service dog organization more than 20 years ago. Her passion was fed by the inspiration she found with the many individuals partnered with service dogs who recognized the value of specially-trained canines to help them regain their independence. The icing on the cake was the creation of Pawsitive Teams that could accomplish this mission with volunteer trainers, many with full-time jobs, who could fulfill their passion through training and placing these special dogs. A win-win for everyone.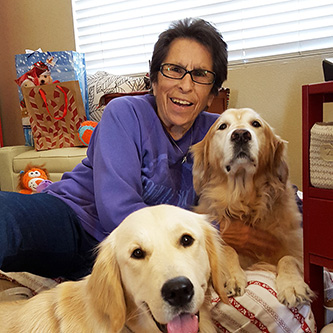 Charli King
Co-Founder
Director of Special Projects
Although Charli spent many years training her own personal dogs, it was a chance visit to a booth at the San Diego County Fair in the 1990s that sparked a new direction for her—a local service dog training organization was promoting their upcoming puppy raising orientation. Charli attended that orientation and thus became a Puppy Raiser. After being a Puppy Raiser with that first organization and then with one other, she sought to participate in what happens AFTER puppy raising. Thus, Charli and Co-Founder Carol Davis formed Pawsitive Teams in 1997.

The nature of Pawsitive Teams' service dog training program is well suited for Charli. Her outgoing, people-oriented personality extends to how she trains our service dogs. During each pup's first two years of training, she adds to their high-level service dog skills development by volunteering as a certified therapy team so the pup has rich social interactions and experiences to add to his or her resume. Charli always goes that extra mile.
OUR MANAGEMENT TEAM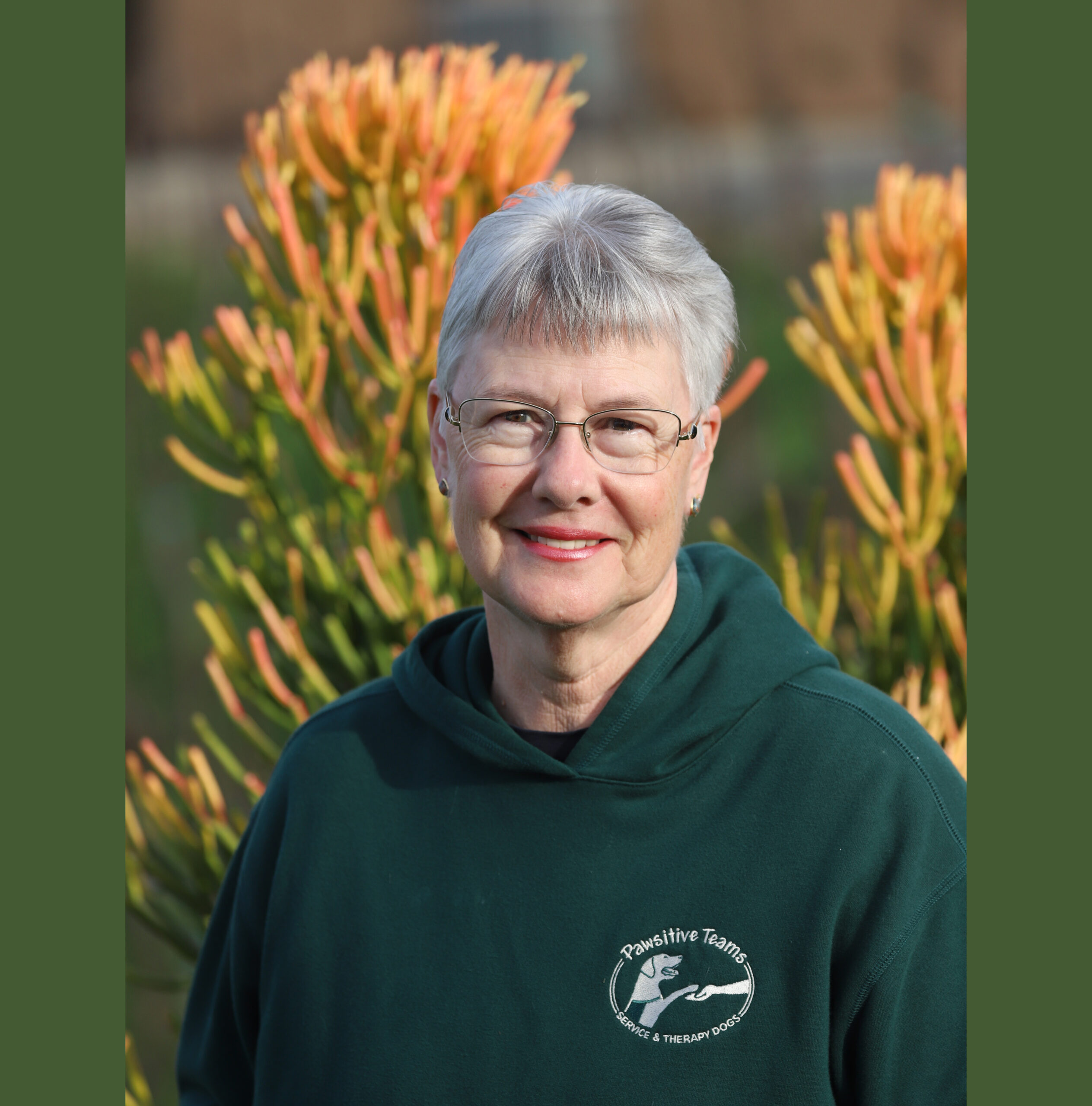 Eileen Heveron
Executive Director
After a career of over 40 years in higher education, Eileen retired in January 2018. She had worked for several colleges in administration, academics, student affairs, fundraising, and information technology. All along, Eileen had also been involved with dogs, including obedience, freestyle, and training and particularly loved her therapy dog volunteer work. She joined Pawsitive Teams almost a decade ago as an instructor in the Therapy Dog Prep School; her husband Hank joined in as a therapy dog program volunteer for several years as well with their standard poodles. In 2019, Eileen and her diabetic alert service dog, Dexter, literally jumped at the chance to take a more active role at Pawsitive Teams as Executive Director.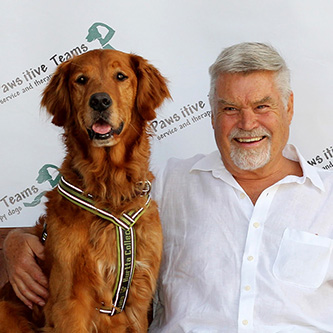 Art Brauner
Former Executive Director
Art was the part-time Executive Director of Pawsitive Teams from 2007 until he retired at the end of 2019. Art and his wife Brenda (a volunteer with Pawsitive Teams) first came to PT with their Golden Retriever "Rachel" who became certified as a therapy dog with us. Art and Brenda currently have an English Lab named "Beckett" who is also a PT-certified therapy dog.

Art received Bachelors and Masters degrees in Science from the University of Michigan and was subsequently a Research Associate and Assistant Professor at West Virginia University. He then served as CEO of the Forest Products Society, a large international nonprofit association headquartered in Wisconsin, for 30 years until his retirement in 2006. Art also has nonprofit experience with various ski patrol organizations and Freedom Dogs, Inc.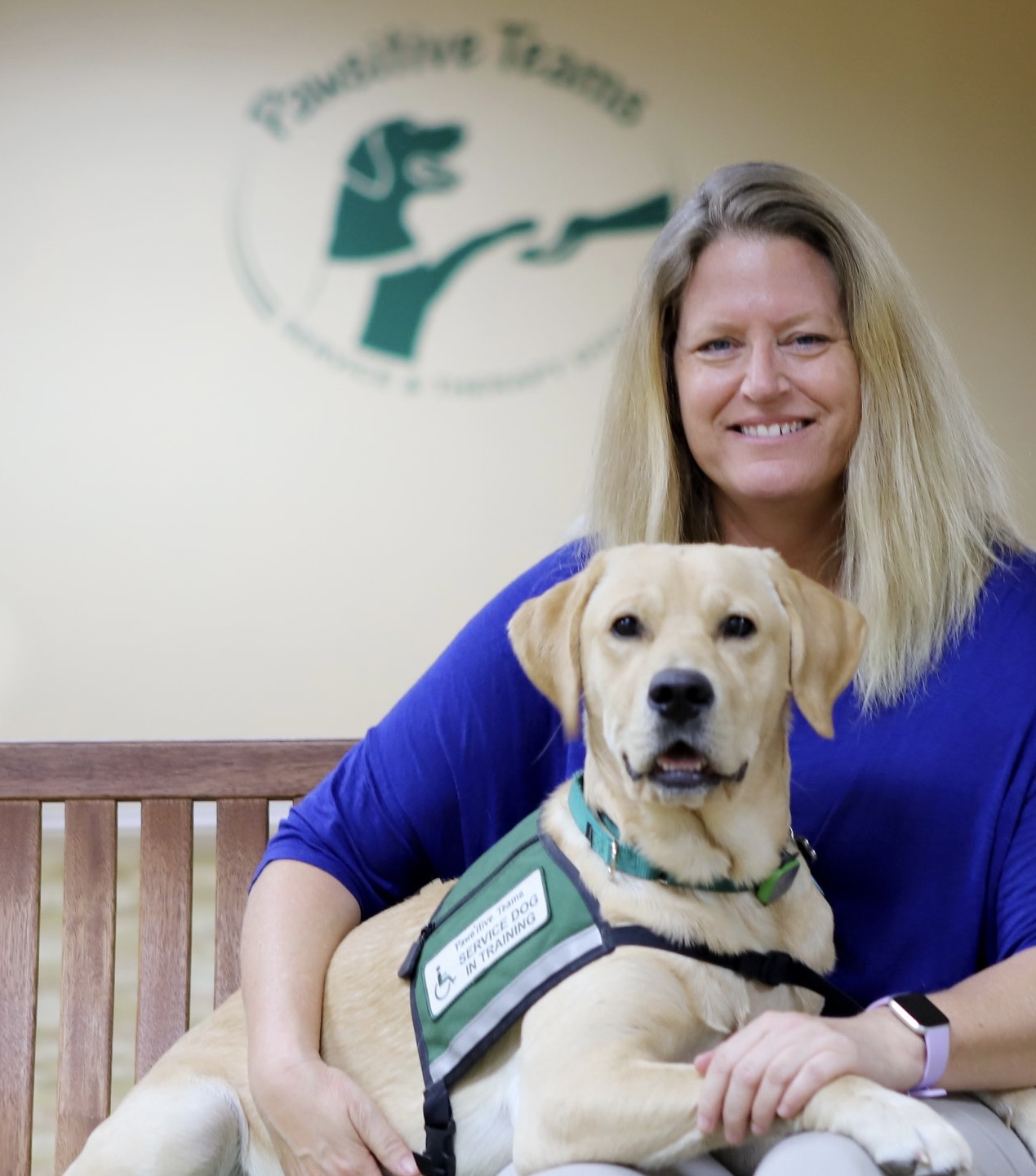 Carolyn Peters
Service Dog Program Manager
Carolyn joined Pawsitive Teams in the Fall of 2002 when she and her dog Goliath enrolled in PT's Therapy Dog Prep School in a Rancho Bernardo assisted living facility. She had rescued Goliath off the streets of San Diego—he was so very exceptional and named after the dog that saved her dad's life during a house fire. Under the expert guidance of Prep School instructors Carol, Charli, and Barbara, Carolyn quickly fell in love with Pawsitive Teams and its mission. Carol recruited Carolyn from Prep School to volunteer in the Service Dog/Facility Dog Program where she worked closely with Kiwi, Carol's service dog in training at the time. Kiwi was lucky enough to frequently join Carolyn at San Diego State University where she worked; they were even featured together in a televised Aztec Report. After ten months of watching, reading, learning, and training in the Service Dog/Facility Program, the Training Team asked if Carolyn was ready for her first dog as the Primary Trainer. She definitely was, and "Annie" was our first and only Goldendoodle and first facility dog; Annie worked for many wonderful years with her partner at New Dawn School in the Clairemont neighborhood. When she passed away, the kids dedicated a garden to Annie fully stocked with tennis balls that Annie loved so much. Carolyn has placed five PT dogs since Annie and is currently training her 7th dog, a fun chocolate lab pup named Wilson. In September 2022, PT was fortunate that Carolyn joined our staff as the Service Dog Program Manager. She facilitates training and education opportunities for our service dog training teams, manages applicants and placements, and heads up many other responsibilities to support Pawsitive Teams.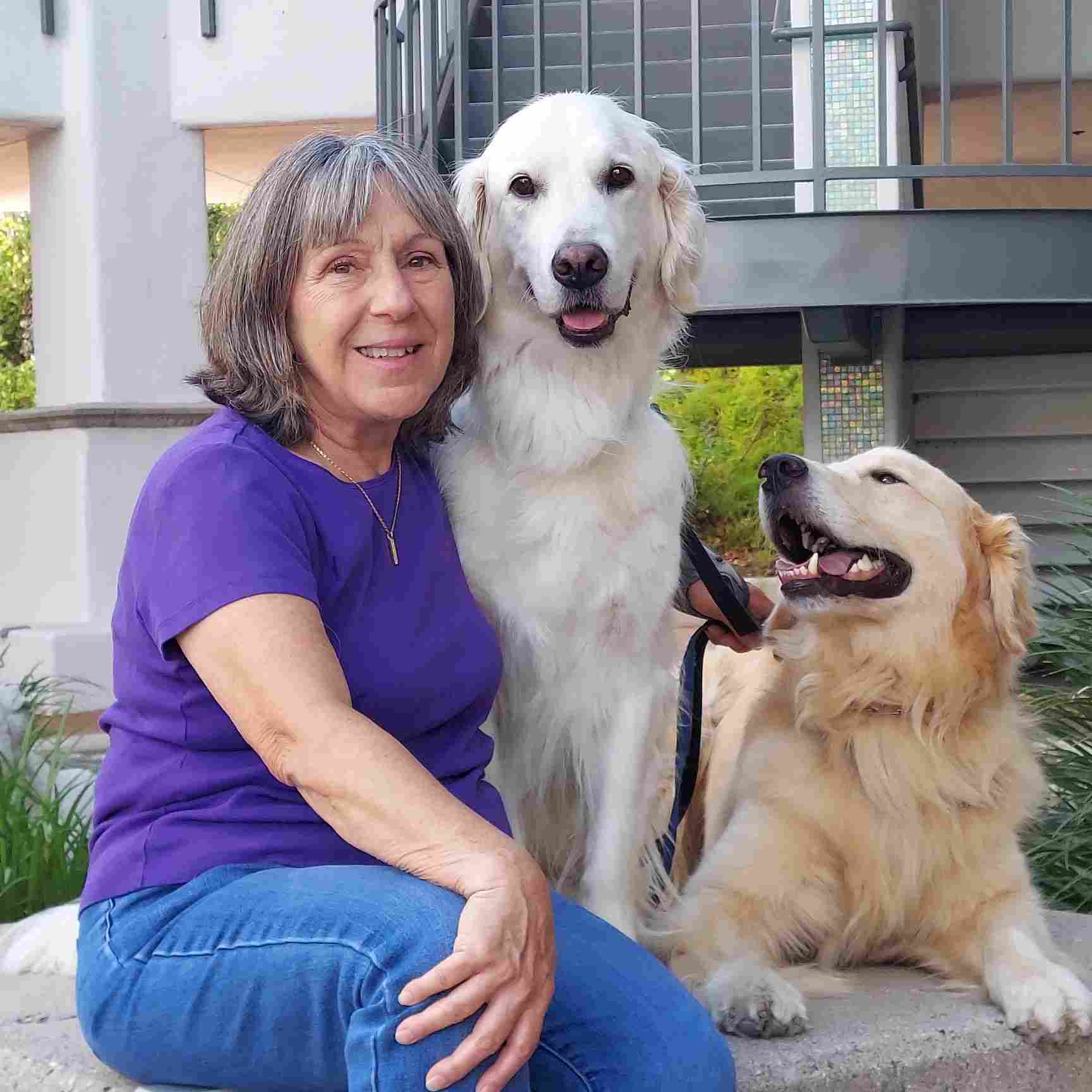 Barbara McKown
Therapy Dog Program Manager
TBD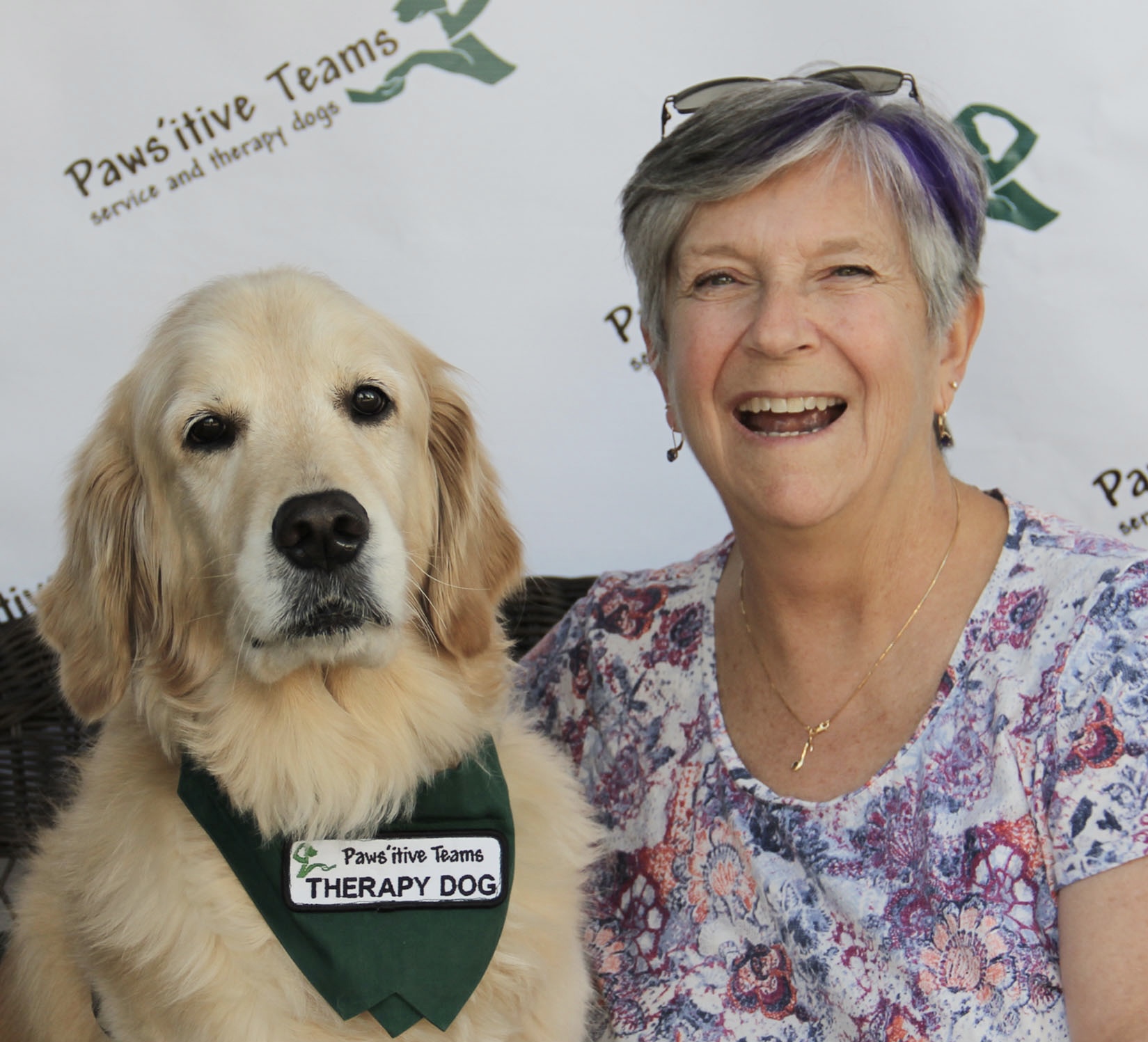 Mary Skrabucha
Facility Dog Program Manager
In 2013, Mary was running a Counseling Center at O'Farrell Charter School and thought it would be great to have a working dog on campus to help students who came into the guidance office. After applying to Pawsitive Teams, Mary was matched with Sejera, a two-year old Golden Retriever who was trained by Marcy Piasecki.

Sejera worked with Mary at O'Farrell for seven years. Be sure to read the article, "What if schools hired dogs as therapists?" by Antonia Malchik, July 2015.

When Mary and Sejera retired in 2019, Sejera changed careers and began working as a Therapy Dog. They continue to work together in Pawsitive Teams' goal-directed Therapy Dog program at "Aces Academy" in Hillcrest. Most recently, Mary joined the Pawsitive Teams staff as the Facility Dog Program Manager. In this position, she is matching trained Facility Dogs with professionals who work in a variety of settings such as schools, military settings, counseling centers, courts, and much more. Additionally, Pawsitive Teams will be launching a training program for professionals in helping jobs so they can train their (well-behaved?) pet dog to work as a Facility Dog. Mary is looking forward to seeing the impact that Pawsitive Teams Facility Dogs will have in San Diego.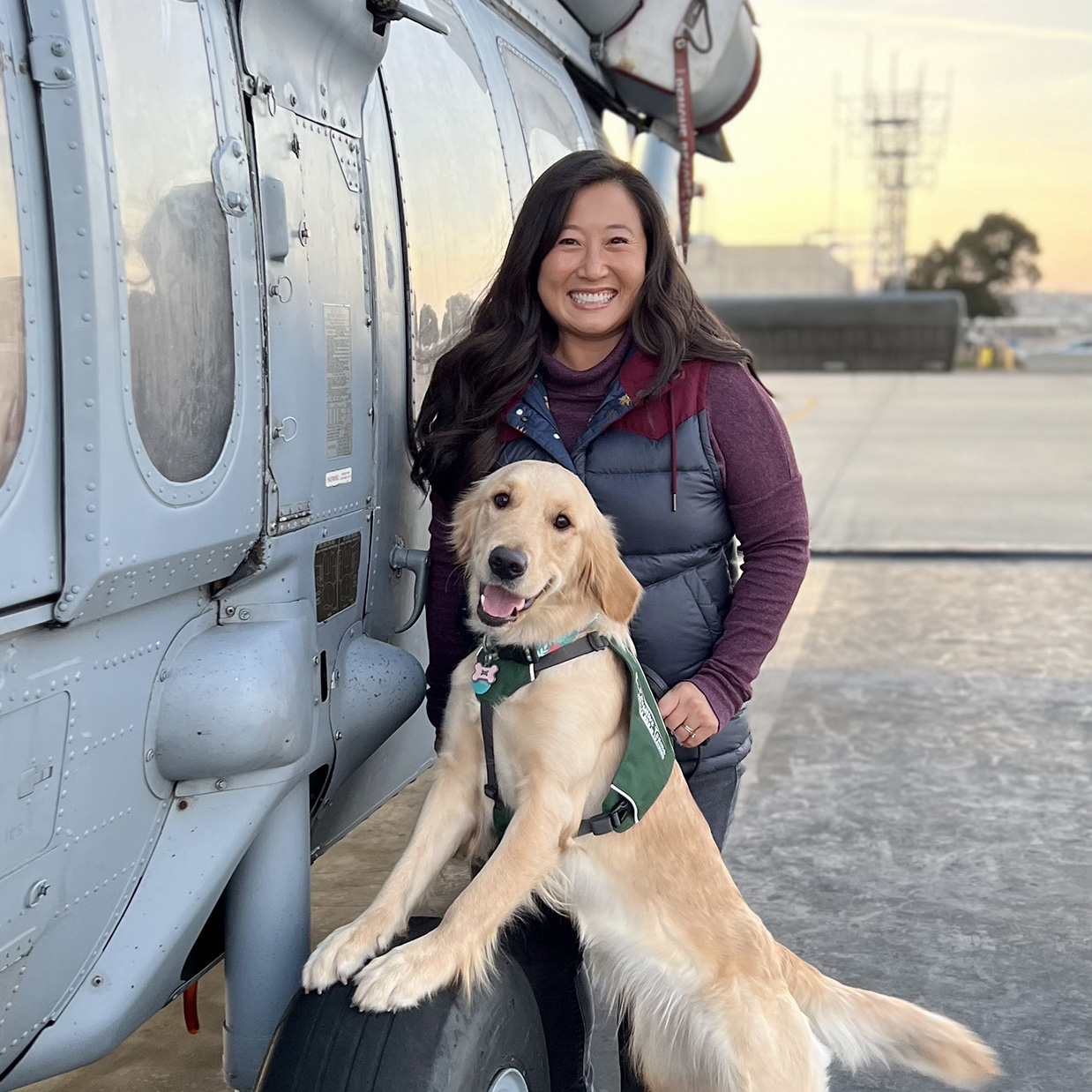 Marcy Piasecki
Operations Coordinator
Being an active contributor in the local community has been a touchstoney in Marcy's life. She grew up volunteering with her parents and continues to volunteer in the communities where Marcy's family has lived throughout her husband's active duty career. Marcy is a proud military spouse and mom, dog-lover, bookworm, and chocolate connoisseur. She feels lucky to have found Pawsitive Teams in 2011, and enjoys being part of the volunteer service dog training team and supporting training center operations so that Pawsitive Teams can continue its mission of enhancing the lives of San Diegans through partnership with highly-skilled dogs. Marcy had the pleasure of training with and learning alongside Pawsitive Teams pups Sejera, Bertie, and Bear.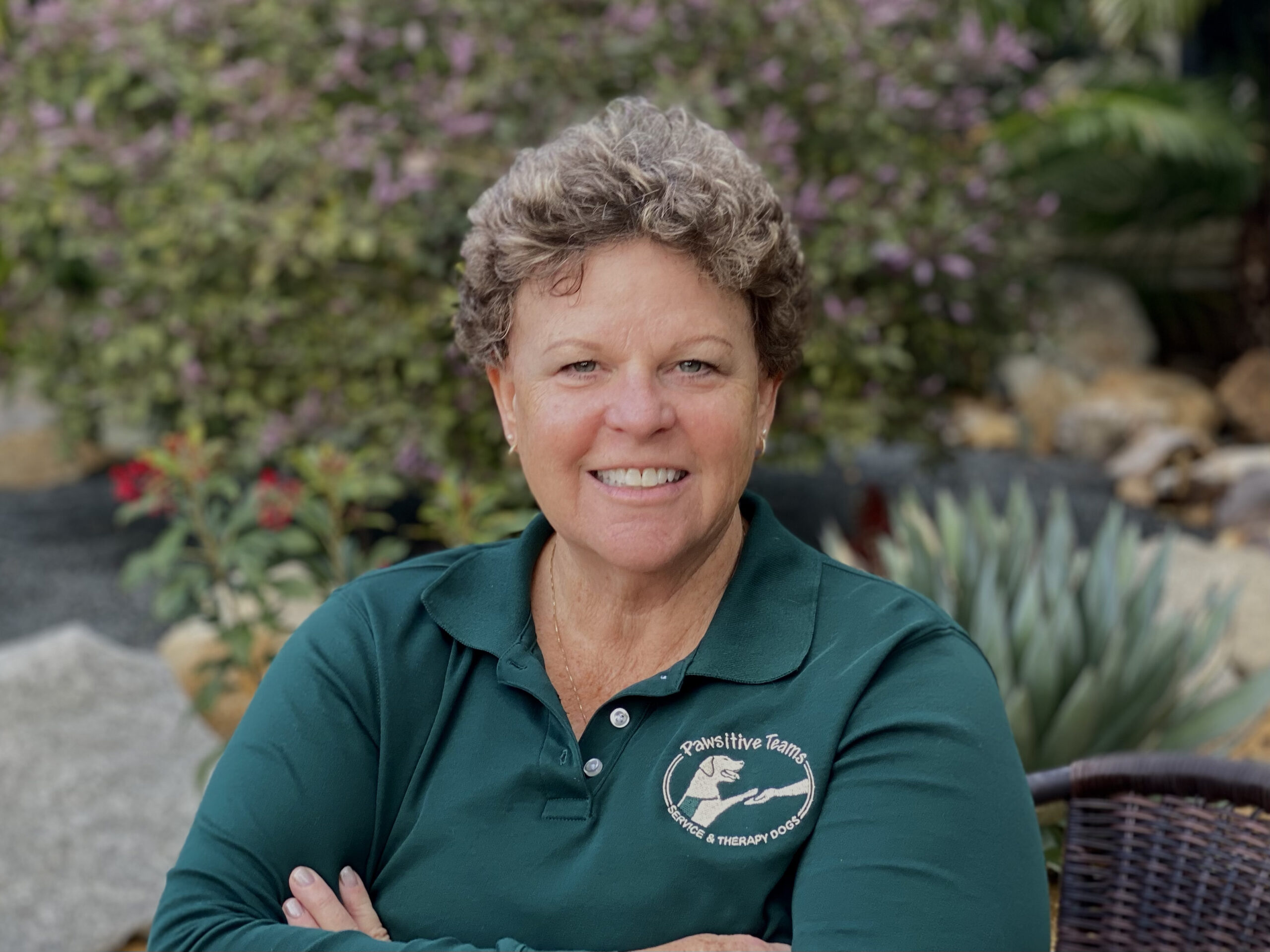 Margery Squier
Technology Coordinator
Margery first came across Pawsitive Teams in 2012 when a longtime dog trainer in San Diego said to her "You just HAVE to take your Collie to Therapy Dog Prep School at Pawsitive Teams!" —she signed up for the class, graduated with Misty, and became a huge fan of the organization. She took a second Collie, Austin, through the Prep School as well, and they've been an active, PT-certified team ever since. She very happily accepted the part-time position of Program Director in 2018 and in 2021 her role expanded to Director of Programs & Training. In 2023, she took the role of Technology Coordinator for Pawsitive Teams.

Margery spent many years in pharmaceutical research, bioinformatics, web development, database design, and project management with Johnson & Johnson and in her own company, The Squier Group. But all along, the dog lover in her rose to the top!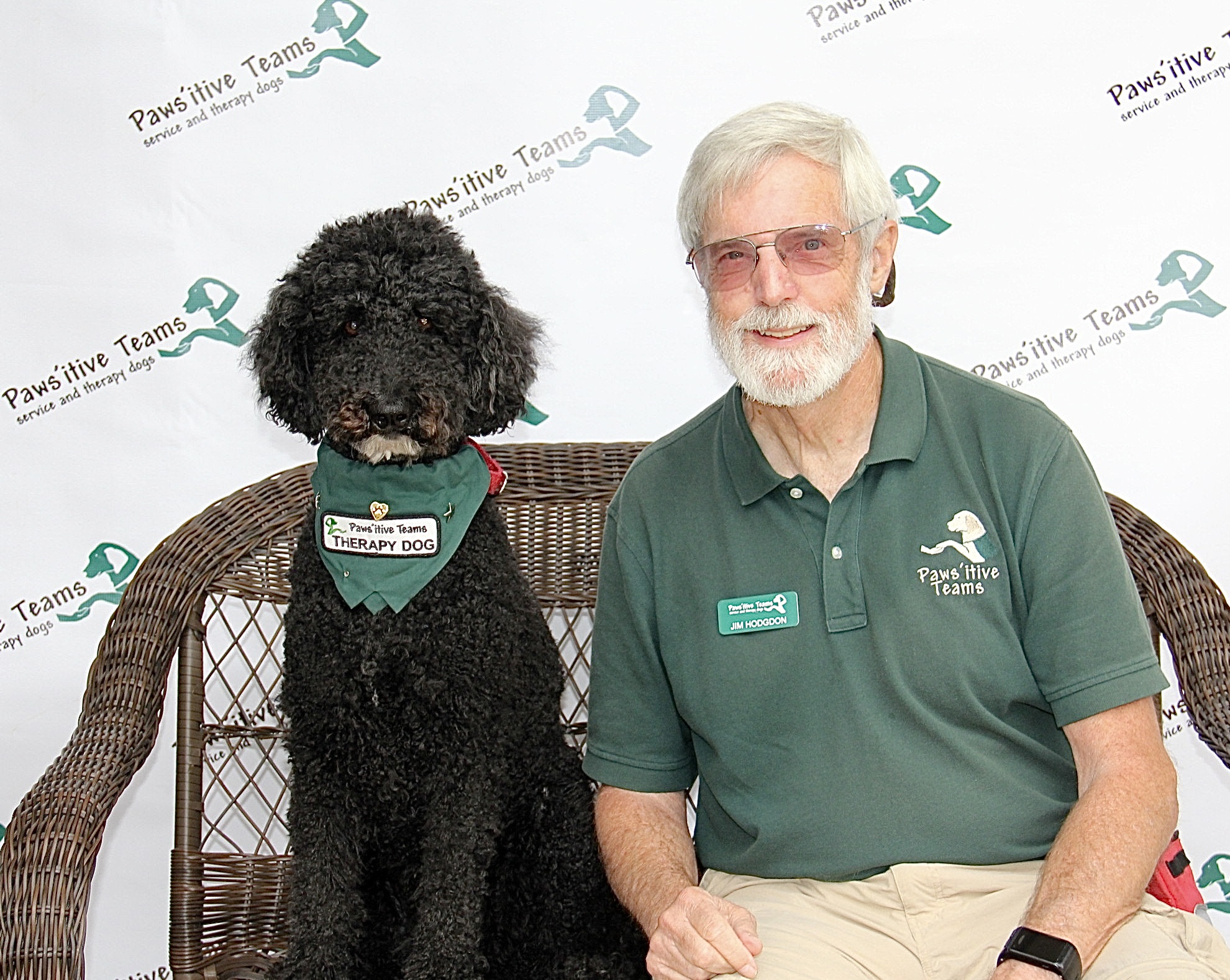 Jim Hodgdon
Educational Outreach Coordinator
Jim's bio is coming soon.
Founded by Carol Davis and Charli King in 1997, Pawsitive Teams was officially incorporated as a 501(c)(3) nonprofit corporation in California in May of 1999 (EIN 33-0851474). Our initial programs included training and placing service dogs for San Diegans with limited mobility and teaching a six-week Therapy Dog Prep School for dog owners interested in volunteering in the community with their pet dog.
In 2006, we established the PAAT program (Pawsitive Animal Assisted Therapy) in which we partner with facilities in San Diego who serve a wide variety of populations that benefit from interactions with carefully selected therapy dogs. This has now become our Goal Directed Therapy Programs. Pawsitive Teams also graduated its first Facility Dog team in 2006. Facility dogs work with professionals in the work setting to accomplish client-related goals.
Our organization is volunteer-inspired and volunteer-run with a very limited part time paid staff. We will apply your donation to the fund you specify. Also, the Board of Directors will use the donations as directed to fulfill our mission.