| | | |
| --- | --- | --- |
| Apr 2021 | Begins April 13 | REGISTRATION CLOSED (class full) |
| July 2021 | Begins July 13 | REGISTRATION CLOSED (class full) |
| October 2021 | Begins Oct. 5 | REGISTRATION OPEN |
We run our very popular, fun Therapy Dog Prep School four times a year. Each of the four sessions is made up of a series of six classes that includes activities to prepare both you and your dog for involvement as a therapy dog team. You also have the option of registering without a dog if you'd like to audit. Our Prep School is not designed to certify teams but rather to give both handler and dog the tools to become an effective therapy team and to be better prepared for tests conducted by the various programs. We spend time in each class to help you identify the best therapy program for your needs and interests, then we guide you through the process.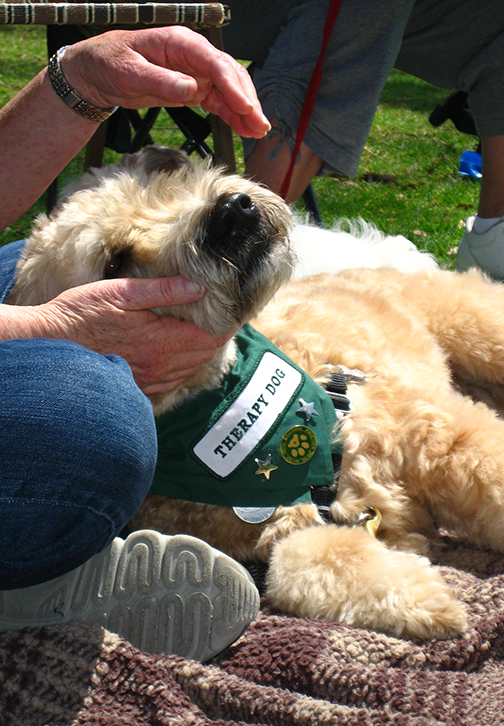 Instruction and practice with successful therapy dog commands and behaviors
Discussion and practice of techniques for effective interaction between therapy dog and clients
Discussion and practice in developing better observation skills to identify signs of stress in dogs
Assistance in helping students identify the most appropriate therapy dog programs
Role-playing opportunities with a variety of typical therapy dog settings
A field trip to an Assisted Living Facility during the 5th class to practice tools taught in the course
Two classes are video taped and students are given an opportunity to study videos at home for discussion in class
Various teaching videos are provided to students to supplement class exercises
COVID Update
Due to COVID requirements, our instructors have overhauled the Prep School curriculum. PLEASE NOTE:
We have reduced our class sizes and therefore our six-week sessions are filling even quicker than usual. If you're available for an earlier session than the one you register for, be sure to check the Wait List box.
Depending upon the final number of students enrolled, we may need to split a session into two nights but we'll coordinate with you well in advance.
Prior to the first class, we require that all students take an online course called "Staying Safe at the Training Center."
IF YOU TRAVEL OUTSIDE OF CALIFORNIA for business or pleasure, we currently require that you not enter the Training Center for 14 days after you return to San Diego—please check your travel plans before registering for a Prep School session to be sure there aren't any conflicts.
Ordinarily, our fifth class meeting is to an off-site facility for some real dog therapy experience, but most facilities have suspended their visiting programs until further notice. If we can't arrange this off-site visit during your session, you'll be on our list to contact for a visit once restrictions are lifted.
We assign required homework each week which usually involves watching dog therapy videos we created. These videos are posted on a private YouTube channel and will help you in your training journey.
DETAILS ABOUT
OUR PREP SCHOOL