CLICK for the list of open Prep School sessions.
If you're interested in attending one of our Prep School sessions, believe it or not our 2024 classes are already full. However, we'll open the 2025 calendar in early September 2023.
At that time, when you register for an available 2025 term, we won't charge you the fee until two months prior to the term start date. We'll consider 2025 registrants who meet all requirements (such as completing a group obedience class or passing AKC's Canine Good Citizen test; and that your dog will be at least 18 months old by the first Prep School class you attend) to be on our Waitlist to fill 2024 cancellations—these will be filled in order of date registered. Be sure to click the Waitlist box when you register (located under your phone number).
Thank you for your understanding—we hope you can join us!
PLEASE NOTE: This is a PREP SCHOOL ONLY—Pawsitive Teams does NOT include certification as part of the school.
We run our very popular, fun Therapy Dog Prep School four times a year. Each of the four sessions is made up of a series of six classes that includes activities to prepare both you and your dog for involvement as a therapy dog team. You also have the option of registering without a dog if you'd like to audit. Our Prep School is not designed to certify teams but rather to give both handler and dog the tools to become an effective therapy team and to be better prepared for tests conducted by the various programs. We spend time in each class to help you identify the best therapy program for your needs and interests, then we guide you through the process.
---
THE BASICS
September, 2022
We're constantly revising our COVID-19 protocol based on local, state, and federal mandates and guidelines. In the meantime, we ask that when you enter our Training Center you:
Are not sick
Wear a mask if you are unvaccinated
Practice social distancing as often as possible
---
WHEN: Classes are held on Tuesday nights from 7:00-8:30 p.m. for six consecutive weeks.
WHERE: Classes are held at our Training Center in the Miramar Area (7031 Carroll Road, San Diego, CA 92121) except for the 5th class which will be an off-site outing to either an assisted living facility or a children's residential facility.
---
FOR YOUR ADVANCED PLANNING—REQUIRED VACCINES
All dogs attending Prep School must receive the vaccines listed below. Proof of vaccination must be submitted no more than thirty days prior to the first class.
Rabies
DHPP (Distemper/Hepatitis/Parainfluenza/Parvo)
Bordetella
Influenza Combo & Leptospirosis (strongly encouraged)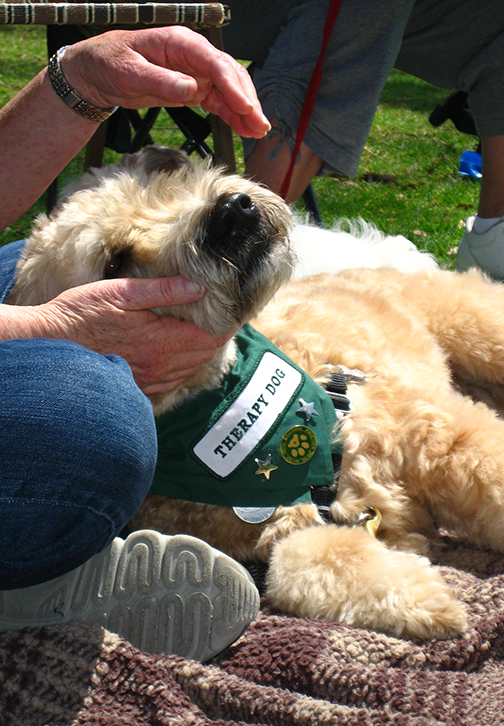 Instruction and practice with successful therapy dog commands and behaviors
Discussion and practice of techniques for effective interaction between therapy dog and clients
Discussion and practice in developing better observation skills to identify signs of stress in dogs
Assistance in helping students identify the most appropriate therapy dog programs
Role-playing opportunities with a variety of typical therapy dog settings
A field trip to an Assisted Living Facility during the 5th class to practice tools taught in the course
Two classes are video taped and students are given an opportunity to study videos at home for discussion in class
Various teaching videos are provided to students to supplement class exercises
COVID & FLU UPDATES
Due to COVID requirements, our instructors have overhauled the Prep School curriculum. PLEASE NOTE:
We are now running full sessions, limited to ten registered students, i.e.,

one person per dog with no additional visitors

. We keep a distance of six feet from each student/dog. Our classes fill quickly so if you're available for an earlier session than the one you register for, be sure to check the Waitlist box.
Prior to the first class, we require that all students read and understand a document called "Safety Steps at the Training Center."
We ask that if you know you've been exposed to someone with COVID or the Flu, or if you are experiencing any COVID or Flu symptoms, that you do not attend class that week. Classes can always be made up next session. Because we often work with immunocompromised individuals, we ask that you follow the current CDC Guidelines released August, 2022. If you've tested positive for COVID, we ask that you wear a high quality mask for 10 days and have a COVID test on day 5 before entering our Center.
Masks are required if you have not been vaccinated.
Our fifth week of class is held off-site and students should note that many facilities have very strict rules concerning visiting, including full vaccination, masks, temperature, and symptom checks, etc. We will provide you with that information as your session approaches.
DETAILS ABOUT
OUR PREP SCHOOL