What Makes a Good Therapy Dog?
A social dog that likes people and other dogs is the short answer.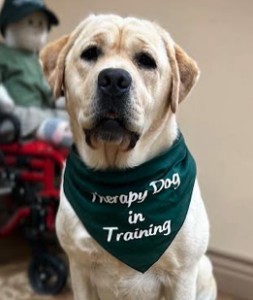 Can a rescue dog become a therapy dog? 
Yes! Another short answer.
How can I make sure my dog is social and likes people and other dogs?
Now we're getting to the long answers.
Whether a puppy or an older rescue dog, you have to get them out and about. Training classes are a great place to start, especially for your rescue dog. You get to learn your dog's personality and how to work them, but in a structured setting. Don't stop at one six-week basic training class. Take advanced classes. Many areas, including San Diego, offer agility courses that let you exercise your dog's mind as well as their body. You don't have to be a pro—just be prepared to have fun with your dog. And don't forget the simple opportunities like neighborhood walks, outdoor shopping malls, or outdoor eating areas where you can stop for a cup of coffee. San Diego's Balboa Park is a perfect place to take your pooch to expose them to people, sounds, and smells.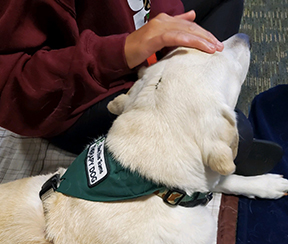 If you live in San Diego, you can find a therapy dog preparatory class like the one offered by Pawsitive Teams that creates real life volunteer situations to develop your dog's volunteer skills. All of these activities train both you and your dog and help you become a solid team. An important reminder: the AKC Canine Good Citizen certificate is required in order to volunteer with your dog, whether with a national or a local organization.
So, once my dog and I do all of this training, where can we expect to volunteer?
The types of activities will vary. National Organizations like Love on a Leash or Alliance of Therapy Dogs frequently visit assisted living facilities, library reading programs, or de-stress days held at some universities. Pawsitive Teams is a local organization that offers not only prep classes for you and your dog, but unique goal-directed therapy programs. Some programs work with teens who may be in a specialized educational setting or a residential facility.  These students work around themes of Trust, Communication Responsibility and Teamwork.  Pawsitive Teams also works with military and veterans who have stress related disorders, helping them, with the aid of the dog, to build their confidence in outdoor and social settings.
Whatever your dog's breed, size, or age, being a therapy dog might be in their future!
Written by: Penny Holder
Steering Committee Chair
Pawsitive Teams Therapy Dog Programs