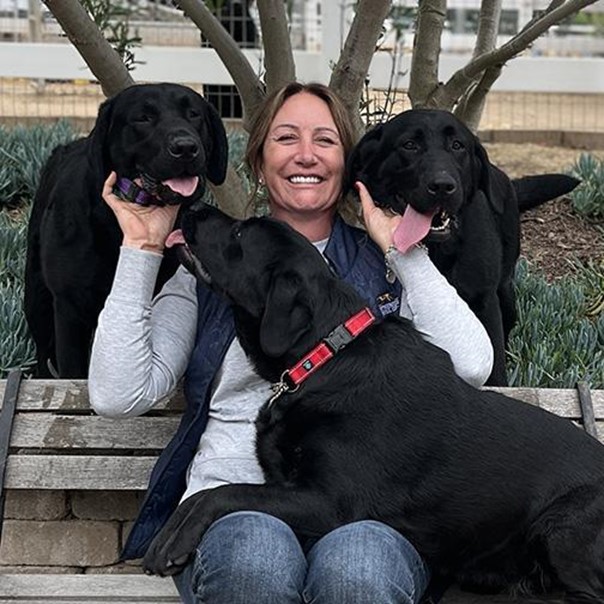 It's a Family Affair
We're happy to announce that two English Labrador Retriever brothers from Washington State recently joined the Pawsitive Teams Service Dog Training Team here in San Diego. These one-year-old black labs are handsome, full of life, and clearly love people. They were met by their Aunt Cricket, also a beautiful black lab, who came to San Diego from the same breeder last year as a potential therapy dog for Pawsitive Teams.
Denelle Curry, our Service Dog Pup Acquisition Coordinator, connected the breeder with PT, and we're so grateful. The two brothers, Sundance and Mac, are being trained by Carol Davis and Margery Squier. Cricket is owned by volunteer Penny Holder, and together they are now a PT-certified therapy team.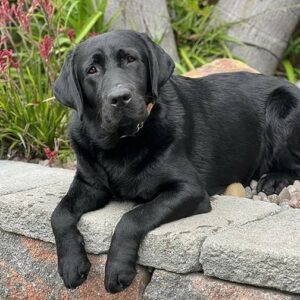 While most of our service dog candidates come to us as pups, we welcome the opportunity to bring in a well-bred dog that's between six months and one year old. One of the advantages of this approach is that the trainer can then turn around a dog-in-training for placement with a mobility-disabled partner in about half the usual training time.
On Mother's Day weekend, the three dogs were reunited for a visit with their breeder, Angela Rogalla, who was in San Diego judging a Labrador Breed show. Watching the dogs greet and play with Angela was an emotional experience for all of us. Angela shared how much it means to her to know that dogs she has carefully bred and nurtured are able to help others live their lives to the fullest.
We look forward to guiding Sundance and Mac along this special journey towards being service dogs. And Cricket has already begun sharing her calm, sensitive personality in our dog therapy programs.