Hospitalman 2nd Class Cork Reporting!
by Kim Elliott
(Live-streamed and found on the Naval Medical Center San Diego Facebook page.)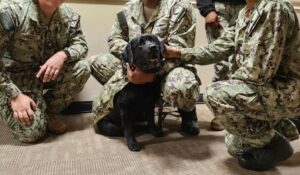 On June 5th, at the Naval Medical Center San Diego, Pawsitive Teams Facility Dog Cork and L.C. (Facility Dog from Southeastern Guide Dogs), received their official ranks on newly designed uniforms. Captain Kimberly Davis said that the dogs "tirelessly roam our hospital campus lifting the spirits of team members and patients alike."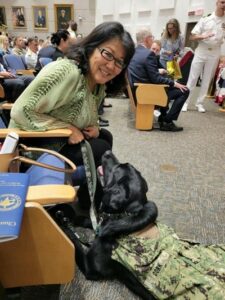 Both dogs went to front and center stage and took the official oath. "Do you solemnly swear (or pant), that you will support and comfort all wounded and sick against all unhappy feelings, foreign and domestic? That you will bear unconditional love and allegiance to the same? That you take this obligation freely without promise of treats? That you will faithfully discharge the duties of love, caring, and comfort to all our nation's greatest heroes? So help you God."
Because Cork and I (as his official handler) have primarily worked with Corpsmen, he represents the enlisted side of the house and was given the title of HM2 Cork. Cork now works in mental health and goes to the locked unit and an outpatient program and serves as an ambassador to help educate staff, patients and guests on the facility dog program.
Bravo Zulu Cork and L.C.!