Wilson Summer 2023 Update
Wilson!!!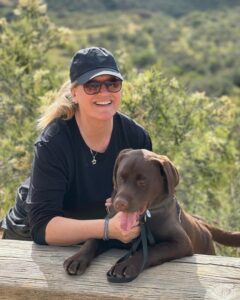 We know everyone enjoys updates on our pups. Wilson is now 8 months old and just under 60 pounds. We continue solidifying or "proofing" his foundation skills by having adventures at Sunset Cliffs, restaurants, coffee shops, and stores. It sounds fun, but remember, he is still very young and wants to explore things and greet people, so my attention must be on his education and public success. We stop to enjoy the scenery, but it isn't unusual to leave early because of his needs.
It is also appropriate and sometimes necessary to leave him at home in a crate or with a trusted friend. He needs to learn that being without his specific human is okay. His favorite service dog task is opening cabinets and drawers. We are working on a more sustained tug with heavier doors, such as the front door to the training center. That sustained tug will allow Wilson to hold the door open for his partner to transition through.
And he loves to play! His favorite game is having a ball or toy in his mouth and nudging or batting another ball with his nose or paws. I look forward to more training and adventures with Wilson.