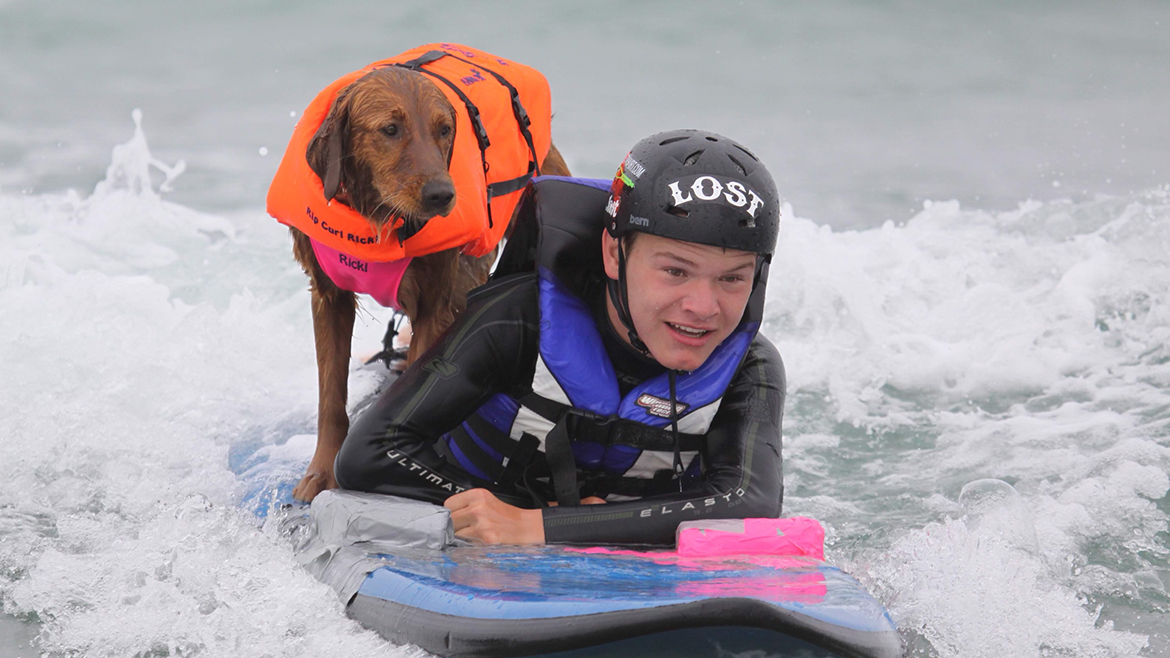 Ricochet the Surf Dog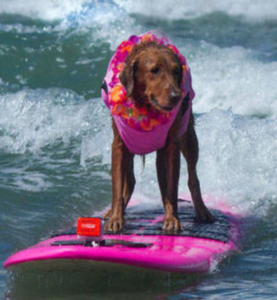 Surf Dog Ricochet balances boards… and lives! She's the only SURFice dog® on the planet who provides canine-assisted surf therapy and healing to empower, enhance and improve the quality of life for individuals with physical, cognitive, or emotional challenges.
She is a registered therapy dog through the Alliance of Therapy Dogs, a certified goal directed therapy dog with Pawsitive Teams and holds the highest AKC title of Therapy Dog Distinguished. She is celebrating 14 years as the first-ever canine-assisted surf therapy dog and recently met the milestone of raising over $1 million dollars for over 250 different human and animal causes.
Ricochet is part of Puppy Prodigies, a non-profit organization that is rooted in the human-canine bond and dedicated to helping individuals grow in mind, body Photo by Allison Shamrell and spirit through the unconditional love and acceptance only a dog can provide. 
In 2009, Ricochet made an independent decision to jump on a surfboard with a boy who is quadriplegic and started a revolution! She clearly showed the world what her life purpose is! She has been supporting adaptive surfers since she began surfing and is a member of Team USA Adaptive Surfers. 
Although surfing has been at the forefront of Ricochet's work, it's not the act of surfing that makes her interactions so life changing. It's her extraordinary and powerful healing abilities, as well as her propensity to make immediate and deep, heart-to-heart soul-to-soul connections with the individuals she interacts with. She intuitively and empathically alerts to their emotional and physical changes which allows for profound paws-on healing interventions.
And because her abilities have been nurtured, she has an exceptional level of healing mastery. People resonate with her and are drawn to her presence and energy. She's able to transform their blockages, dissolve pain and trauma, release fears, avert panic attacks, reduce meltdowns and other anxiety provoking behavior. She especially helps children with autism and military with PTSD come out of the dark corners of their emotions to new pathways of free-spirited living.
Ricochet's human, Judy Fridono believes all dogs have these healing powers. Unfortunately, we often misinterpret their cues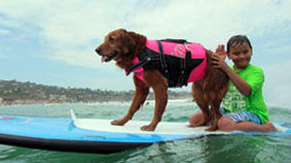 as bad behavior. In doing so, we miss the magic every dog is capable of. Her hope is that others will gain a better understanding of the sentience of dogs, and how they are always communicating with us… we just have to listen.
One of Ricochet's initiatives is her Waves of Empowerment program which focuses on empowering and enriching the well-being of veterans with PTSD and children with special needs through the healing power of the ocean, and the healing power of a dog. It connects veterans and kids through the challenges they face… taking them from the battleground to the playground.
Each veteran becomes a mentor and is paired one-on-one with a child for a day of paws-on healing through canine-assisted surf therapy, and other empowerment building activities. It has been found that being of service to another individual provides a sense of self-worth as well.
Ricochet has received many awards including the prestigious AKC Award for Canine Excellence, The American Humane Associations Hero Dog Award, and Dog of the Year from the ASPCA.  She is also in two surfing dog halls of fame. 
She has been featured in hundreds of articles, media sources, documentaries, movies, commercials and other outlet.
She uses her fame to raise awareness for many different causes. She has a published book called "Riding a Wave of Hope With the Dog Who Inspires Millions", and she is in the IMAX film, "Superpower Dogs" which is in theaters and on Hulu.
It's
Ricochet's wish that her legacy will be the catalyst that gives hope to veterans with PTSD who are suffering in silence or contemplating suicide, as well as anyone else who is faced with emotional, physical or cognitive challenges.
Viral video – 6 million views "From Service Dog to SURFice dog"
Behind the scenes video of "Superpower Dogs"
Loves the study of squirrels. 
Took her first breath in her human's hands.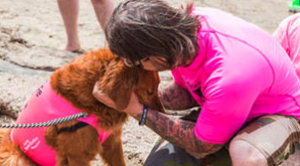 You Tube Videos