Our Facility Dogs Have Graduated!!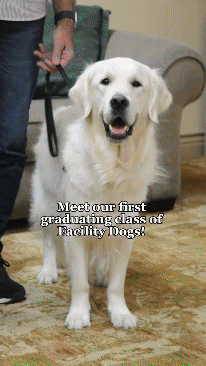 When we last updated you, the Facility Dogs in our new Academy program were deep into their training. Since then, all completed their coursework and passed their exams. Their graduation in October was a huge success. We had almost 50 people in attendance including several Board members, Bear's Sponsor, and Sandy's breeder!
We graduated five teams. Three – Bear, Sandy, and Duchess – were Pawsitive Teams "career changers" who went to the Facility Dog line of work from service dog training, and two were owner-trained dogs. Each team was able to share a little about where they will be working with their dog and what they will be doing. In short, they are all working successfully at their sites: Bear works at the Intrepid Center at Camp Pendleton, Sandy works with a pediatric occupational therapist throughout the County, and Duchess, Charlie, and Daisy all work at high schools. We are engaged in doing weekly observations to help iron out any wrinkles that come up.
We will be having our Facility Dog Academy classes twice a year, starting in January and July. The Academy program term is six months long, and we hope to have five teams in each term in 2024. We already have four teams signed up for January and two for July, so the prospects of continuing to grow this program are looking very good.