Facility Dogs in Transition Training
In addition to our three Service Dogs in Training, Mac, Sundance, and Wilson, we currently have five Facility Dog Teams in transition training. Three teams are Pawsitive Teams career change dogs, and two teams are personally-owned dogs going through our new Facility Dog Academy. Here they are!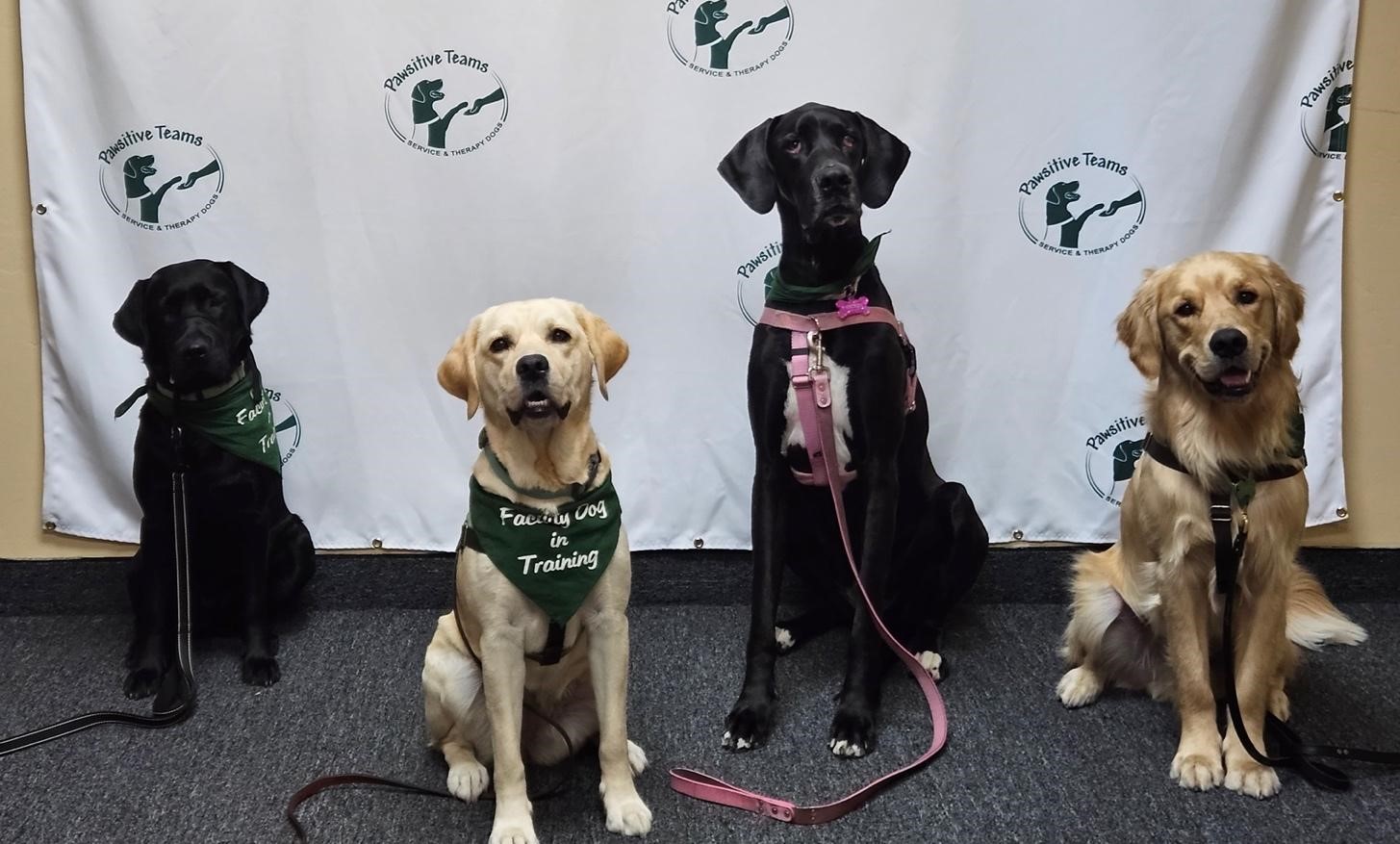 Bear is a 20-month-old Golden Retriever who is a big teddy bear! He loves to lean up against people and is a great snuggler. Bear will be going to live and work with Angela, on base at the new Intrepid Center at Camp Pendleton. We know he will do a great job working with the Veterans going through the program there.
Duchess is a 2 1/2-year-old Golden Lab-Retriever mix. She wants to be everyone's friend and especially loves belly rubs. She will be living and going to work with Lauren. At Helix High School, Duchess will split her day between the wellness center, counseling center and the library. The staff and students are very excited about her joining the Helix Family.
Sandy is an English Cream Golden Retriever, who is almost 3. His favorite thing to do is to bring his leash to you. Sandy will be living with and going to work with Mark. Mark is an occupational therapist and will be using Sandy to help his clients reach their therapeutic goals. Sandy has so many skills; we know he is going to be a big help to Mark.
Daisy is a 4-year-old Great Dane. She is owned by and lives with Lily. They will be working together at Del Norte High School. Daisy already has her own bed and toys set up in Lily's classroom and can't wait for the kids to arrive. She is very excited about being able to go to school every day.
Charlie is a 2-year-old Black Lab who is owned by and lives with Todd. Charlie loves to hike, which is a good thing because she will be working at Scripps Ranch High School and they have a huge campus. Their office is in the counseling center, so we know Charlie will be able to be a big comfort to many students and staff.

All five teams are doing a fantastic job in transition training. It looks like they will all be able to get to work at their new jobs soon! We will keep you updated.