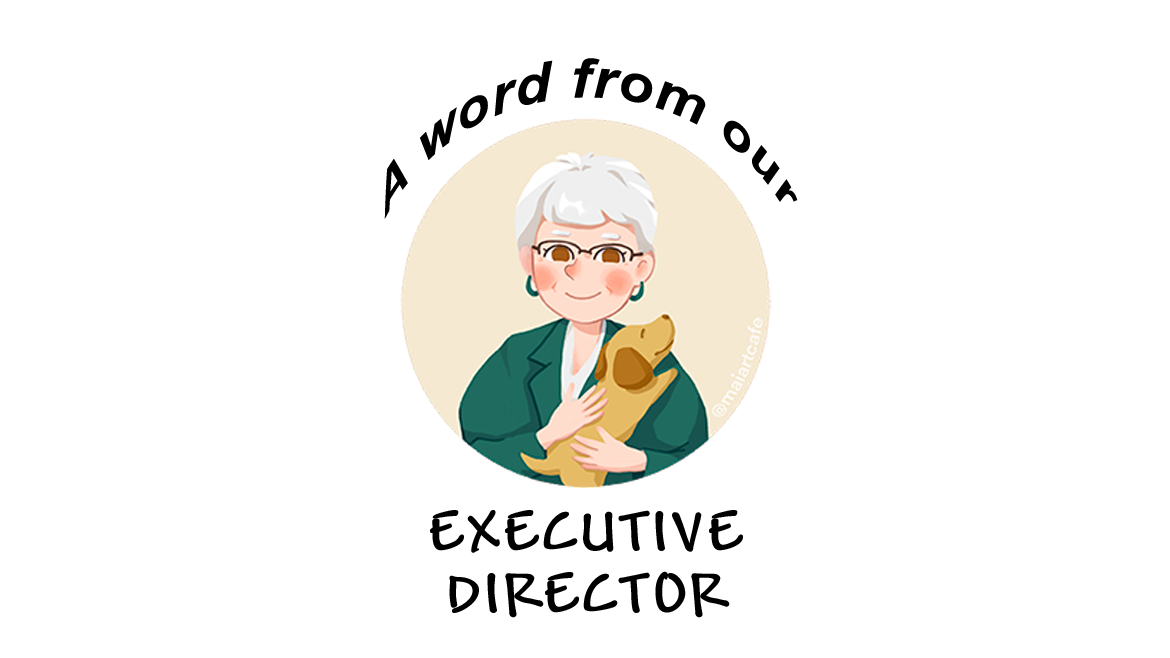 A Word from our Executive Director—Spring 2023
OUR TEAM:  If you're interested in seeing who we are behind the scenes, here's our organizational chart.  As you can see, our part-time staff is joined by many volunteers who have expertise in a wide variety of areas. If you would like to help fill in the blanks by providing a bit of time and talent to our programs, don't hesitate to reach out to the managers and coordinators.  
THE NEWSLETTER: We hope you enjoy our new online newsletter.  Our Newsletter elves plan to publish at the end of each quarter, with our 4th quarter edition being both print and online if all works out.  Let us know if you have any suggestions for topics you'd like us to cover!
FINANCIALS:  Over the past three years, we have accomplished a lot. Pawsitive Teams has covered its expenses even in times of fewer donations, completed refurbishing the Training Center, added staff, and built its endowment to well over its initial goal. However, 2022 was a tough year for everyone, and we were no exception. While our individual giving was lower than previous years, we received more grant funding than in any other year. This brought our financial performance in line with 2020. Our endowment lost ground like most other investments, and we are looking for brighter days ahead.
Individual Giving
2020 $193,408
2021 $226,502
2022 $139,221
Grants
2020 $65,500
2021 $57,187
2022 $93,116
Organizations & Service Clubs
2020 $7,928
2021 $37,754
2022 $34,601
TOTAL
2020 $266,836
2021 $321,437
2022 $266,938
Pawsitive Teams also obtains on average $7,200 per year from Prep School class fees +/- $1200.
THE UNKNOWN: The world continues to work in mysterious ways. Last year at this time, we learned that we would be the 2022 service project of the International Order of Rainbow Girls of CA. These young women are truly amazing, putting forward their enthusiasm, grassroots fundraising knowledge and expertise, and embrace of Pawsitive Teams. In April, we will hear the final results. And we received the news a few months ago that a dog-lover who knew us from Prep School when it first started (!) had passed away. Susan Sands designated us as one of the  beneficiaries of her trust, and we will forever be grateful for her kindness and generosity.
IN CLOSING:  We have a new member of the Pawsitive Teams family, Kona Realty! Founder and CEO Dillon Taylor, a Navy vet, put it best when he posted the following on Facebook: "When people speak about their "true north," their "purpose," what are they talking about? For many, purpose is something that is finite: "I want to become a surgeon so I can help people." But what happens if you don't achieve what you set out to? What happens if you lose the true north that you have always aimed at? You keep pursuing. Before creating Kona, I thought that I lost my true purpose. In reality, I stopped looking. I thought 'purpose' was a title, a certification, a job. The truth is purpose is a behavior – a passion – energy directed intentionally for a cause. For me, my purpose is making a positive impact on those around me. Something so simple, yet so significant. We are proud to announce that we have formed an official partnership with Pawsitive Teams, a service and therapy dog nonprofit that makes a positive impact on the community every day. You can look forward to future events aimed to increase awareness and contributions towards Pawsitive Teams."
Thank you for all you do!

Eileen D. Heveron
Executive Director
Pawsitive Teams, Inc.
[email protected]