Pawsitive Teams specifically serves individuals residing within San Diego County. This local focus allows us to take a comprehensive approach to serving people with disabilities within our San Diego community.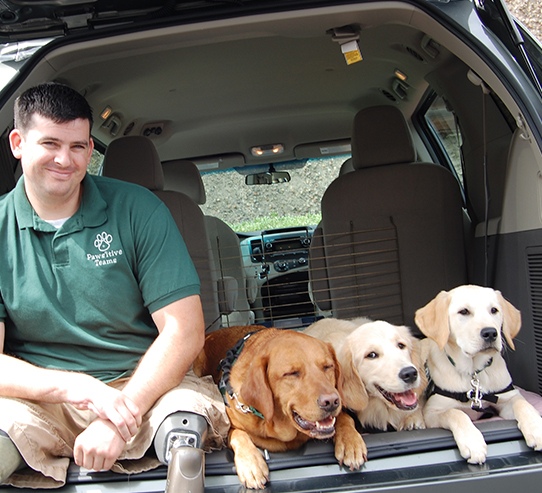 SERVICE DOG PROGRAM: Our service dogs in-training live with our volunteer trainers from puppyhood through placement, ensuring skilled, consistent training. This eliminates the high fixed-costs of kenneling and its concomitant stress on the animals. Pawsitive Teams uses only positive reinforcement training (Operant Conditioning), a proven method based on sound scientific principles. Pawsitive Teams has created new programs for disabled individuals in San Diego County.
THERAPY DOG PROGRAM: While a number of "meet and greet" therapy dog organizations are active in San Diego County, Pawsitive Teams' Goal-Directed Therapy Dog Program is unique; certified handler/therapy dog teams work directly with professionals to provide goal-directed therapy for the recipients.
FACILITY DOG PROGRAM: Our facility dogs have all been trained through the service dog training program but placed with professionals within the community and used to actively accomplish client-related goals. These dogs live with the facility dog handler.