Pawsitive Tales Volume 7, Issue 2
While the procurement of our new Training center has marked a momentous step forward for our organization and its programs, this step forward does not come without challenges. Even though the lease rate on our new Center is very reasonable for central San Diego, anyone who is at all familiar with such costs will realize that we have our work cut out for us. We must assure that we can meet our future lease obligations and still generate the level of funding required to continue to meet our important mission.
Fortunately, one of our supporters generously agreed to fund half of the first year's lease, giving us breathing space to launch a Capital Building Fund Campaign designed to underwrite future lease costs.
Every $500 puts a new shingle on our roof.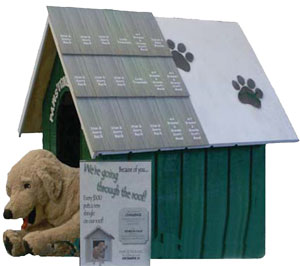 Thanks to you …
We're going through the roof!
The Paws'itive Teams Building Fund Campaign is a 4-year campaign with a goal of raising $600,000 over the period 2009 through 2012. The interest generated by this fund will then be used to underwrite the operating costs of our new Training Center, and will eliminate the need for continual fundraising to cover this major expense.
We are pleased that an anonymous donor from San Francisco has made a very generous gift of $50,000 to the Paws'itive Teams Building Fund. This helps us get our important capital campaign off to a solid start. However, while this substantial gift is a great beginning, we still have a long way to go to meet our 4-year goal.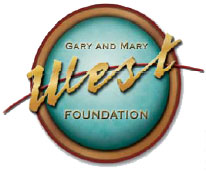 Every dollar we receive for our Building Fund, up to $35,000, will DOUBLE IN VALUE thanks to a Challenge Grant from the Gary and Mary West Foundation. For each $500 donation received we will place a shingle with your name on it on our Paws'itive Teams Dog House. As of the writing of this Newsletter we have a total of 18 shingles on our House, with 70 to go. Please join our campaign and help us ensure a solid future for Paws'itive Teams!
For a donation card, contact Art Brauner
858-279-7297 or [email protected]
or
donate through Pay Pal on our website
www.Pawsteams.org.
Time is Ticking!
The Challenge Grant
ends December 15
---
Director's Corner…
In the last issue of Paws'itive Tales I closed my remarks with the statement that 2008 is shaping up to be a banner year for Paws'itive Teams. And so it is! Our new Training Center is starting to look like home. Only a few items are left to be purchased for the facility, and most of the items installed so far have either been donated or supported by financial donations.
The PAAT Program (Paws'itive Animal Assisted Therapy), which is unique in San Diego County, is expanding rapidly and now has 30 certified teams working in three facilities: Escondido Medical Therapy Unit, Abraxas High School (Poway), and the Autism Comprehensive Educational Services School (ACES) in Hillcrest. A new facility (El Cajon Medical Therapy Unit) is soon to come on line. For their work with the PAAT Program, Paws'itive Teams volunteers Carol Birch and Sallee O'Brien received Volunteer of the Year Awards from the San Diego County Board of Supervisors for outstanding service to Health and Human Services Agencies. A new therapy dog program called Personal Paws is currently in development as an adjunct to the PAAT program. This program will allow PAAT Certified therapy dog/handler teams to make one-on-one visits with individuals in the home, local parks or at our Center.
Our newest Facility Dog Team (Lynn Chavez and Dory) are involved in a unique program. Lynn, an officer with the San Diego Police Department, and her dog Dory serve as emotional support for children who must appear in court to face an individual accused of abusing or molesting them.
In June we graduated two new Service Dog Teams and currently have six pups in training. Our newest pup, a 3 month old Golden Retriever named Lucca, just began training under the capable tutelage of Linda Truesdale.
Our Therapy Dog Prep School, which is now being held at our new Training Center, is booked into next year, with openings not available until July 2009. This extremely popular program has inspired some long-term supporters of Paws'itive Teams and has produced a number of dog/handler teams who have joined the PAAT Program.
On the financial side, we just launched a 4-year, $600,000 Building Fund Campaign to support the lease and operating costs of the Training Center with interest generated by the fund. I am delighted to announce that a $14,000 donation toward our first year's lease was donated by one of our supporters in June.
The Endowment Fund, which is held in partnership with the San Diego Foundation, has grown to over $60,000, and in the spring of 2009 we will join a new cooperative effort run by the San Diego Foundation that will assist us in developing a Planned Giving program. Gifts from this legacy program will be used to grow our endowment to a level that will reduce our future need for fundraising.
So indeed it has been, and continues to be, a banner year, thanks to the hard work of our volunteers and the generosity of our loyal supporters!


Art Brauner
Executive Director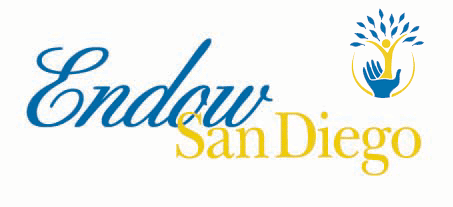 Paws'itive Teams is a partner in
Endow San Diego's Non-profit
Partnership Program.
Please contact us for more
information about our.
Planned Giving Program
858-279-7297
The Nonprofit Partnership Program is a cooperative agreement only and limited
to the Endow San Diego Program. No legal connection or inter-organization
authority is granted or implied between participants in the program
---
Meet our Newest
Service Dog Team!
Summer, 2008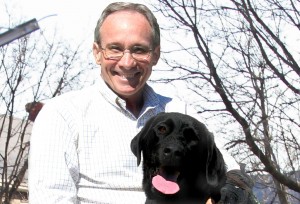 "A service dog is an amazing social enabler for anyone who has paralysis. My 1989 accident caused a permanent spinal cord injury in my neck area, resulting in paralyis. Since that time, I've benefited by having terrific service dogs. Dale, my current service dog, is the best! This 2-year old handsome black Labrador Retriever has surpassed all my previous expectations.
Dale enhances my life in immeasurable ways. Because I have limited dexterity in my hands and fingers, Dale's training and his retrieval skills are crucial in helping me accomplish many activities of my daily life. If I drop my wallet, car keys, cell phone, or any object, Dale is always ready to enthusiastically retrieve them, carefully placing these items back into my hands. Dale is my constant buddy and companion. He assists me in performing many of my most challenging daily tasks.
Life with Dale has social benefits as well! Wheelchairs and physical disabilities sometimes are intimidating to others during social encounters. Dale's irresistible looks along with his lovable good nature draw people to us. He has been responsible for initiating many enjoyable encounters with other people, resulting in friendships.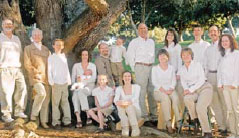 I can't say enough to praise service dogs in general, and my Dale in particular. Every day in life I benefit by having Dale as my sidekick. He is a reliable and helpful partner to me, and my two young children love him as much as I do."
The Value and Perception of Service Dogs
by Bill Weaver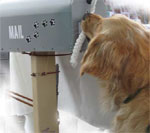 How are "Service Dogs" of service to disabled persons, and what does their training entail to assure that they master adequate skills and the appropriate behaviors? Have you ever wondered or had that thought, and then just simply dismissed it prior to a clear answer coming to mind? That is exactly what most folks do upon encountering a working service dog pair – i.e. a handler with a service dog wearing an identifying cape.
Most folks see a service dog and his partner and simply think "Oh how cute, or sweet, that he will take that nice dog into stores, the movies or a restaurant." This ends their thought. Others think "How cool! I should make a cape so I can take my dog into stores also." Of course that is unlawful.
Rarely do these folks think about the careful selective breeding that's necessary, the repeated screenings for congenital problems such as hip or elbow dyspepsia or visual problems, and other numerous routine or emergency veterinary visits. (Yes, service pups in training sometimes swallow the wrong things too!) Nor do they think about the arduous placement screenings or the all-important transition adjustments of the dog with his new partner. They don't realize that this all must happen along with approximately 24 months of rigorous canine training, enabling a disabled person to be able to utilize and properly handle this new canine companion and helper!
Thousands of hours of paid and volunteer time goes into the creation of a capable and well trained dog, enabling it to become a certifi ed working "Service Dog." Nearly $30,000 can be invested in a fully trained and placed working service dog.
Some pups fall short of graduation as a full-fledged service dog for unforeseeable situations, such as medical problems (seizures, severe skin allergies, etc.) or perhaps because of temperament. These dogs still cost the training organization an investment of time and money right up until a determination can be made as to whether there is another purpose which will best suit a particular dog's personality.
A dog not ultimately suited for this typical service work could be very well suited for other equally important purposes, such as therapy work (hospital, nursing home, children's center) or facility work under the direction of an occupational, physical, or recreation therapist. Some dogs do emotional support work – with the handler being a trained justice or court professional. Paws'itive Teams has placed trained dogs in all of these service categories.
A new spin in the La Jolla Festival of Arts
by Micheal Fagerwick
The 22nd Annual La Jolla Arts Festival was held on June 28th and 29th. This year, the PAWS'ITIVE TEAMS booth had a new spin–the skills wheel was retired!! Visitors used to spin a wheel to land on a skill, then a service dog would demonstrate the task.
Using the new format, one of our service dogs would not only show the public a skilled behavior, but also demonstrate the application of that skill for those with disabilities. For example – a real crowd pleaser was RETRIEVING the mail from the mail box for someone with limited mobility. Visitors were also able to fulfill that itch to pet a service dog. The dogs loved it too!!
Thanks to all who volunteered and helped make our booth great – once again!
Meet Our Newest Pups!
Sponsor Marie Nelson
---
Charley

Trainer's Assistant Laurie King

Sponsored by Joan Henkelmann

Lucca

Linda Truesdale

Marie Nelson
Lynn and Dory
FACILITY DOG TEAM – Fall 2008
by Lynn Chavez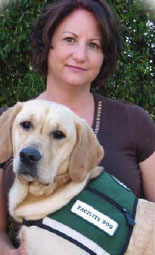 As with all of Paws'itive Teams' Facility Dog placements, Dory has a particularly important job, one that suits her loving personality perfectly. Dory and I work with children and/or mentally disabled adults who have been victims of assault. Dory provides comfort and emotional support to these very fragile victims and also to their families. I work for the San Diego Police Department, and for the last 17 years I have been assigned as a Liaison to the San Diego County District Attorney's Office.
While Dory was still in training we were able to work with many children and assist them through the prosecutorial process. Dory has used her unique personality with these special children and adults not only during their interviews with law
enforcement, but also by accompanying them to court and curling up at
their feet while they testify.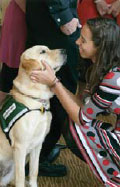 Dory was a wonderful comfort and distraction during a very difficult time in my life. It was so nice that she met me at the doorway of the courthouse and walked with me to the courtroom. This allowed me to feel less intimidated by the entire process. I really enjoyed her comfort and companionship.
As you can imagine, testifying in court can be a frightening experience, and when it is time for Dory's new friends to testify she helps distract them from the stresses and pressures that they are facing. For most
of them, this will be the fi rst time that they have seen their assailant since they disclosed the assault. They now have to get up in front of a room full of strangers and recount the details. Dory and I remain with them throughout this process. Sometimes there are numerous court appearances over many days or weeks. Knowing that Dory will be there for them provides a bit of enjoyment and happiness during this stressful time.
Since I have been using Dory to assist these victims, I have seen children who were shy and uncommunicative become outgoing, confi dent and outspoken. Some, who were afraid of testifying, actually started looking forward to going to court, as they knew that Dory would be there for them. One
of Dory's new friends sleeps with a photo of Dory under her pillow, and gives the picture a kiss goodnight before she goes to sleep.
I look forward to many years of partnership with Dory and Paws'itive Teams. Thank you Paws'itive Teams for giving me this wonderful opportunity!!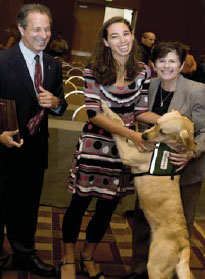 Using Dory in this manner has enabled and empowered many victims to disclose their assaults and to testify effectively against their assailants. This ultimately helps law enforcement and prosecutors in the fact-finding process, resulting in numerous successful prosecutions and convictions. In fact, some defendants have pled guilty after seeing how well their victims were able to testify when they had Dory by their side!
---
PAAT
(Paws?itive Animal Assisted Therapy)
We welcome our NEWEST TEAMS
SMALL DOG–BIG MISSION
Hank Beck Taylor & Tele

Gloria Harris & Cinderella

Jane Majuri & Zac

Brenda Scott Mead & Rachel

Valone Marks & Tyler

Dodie Williams & Wilson

Barbara McKown & Izzy
by Rhiannon Ward
PAAT certifi ed therapy dog Nugget is quickly growing a reputation bigger then he is with the PAAT program at the Escondido Medical Therapy Unit. We work in partnership with both Occupational and Physical Therapists as they set goals for children with physical disabilities. Nugget really enjoys being with the kids, while I work with the physical therapist, Kathy Smith, to fi nd ways he can motivate the children to accomplish their therapy goals.
One young boy who works with Nugget is quite competitive! Reese has difficulty running, balancing and jumping. Well, Nugget can do all those things on cue! For running, we turn the exercise into a game and have the two race each other. Even with Nugget's small legs, he can outrun the child, but it's fun for both of them – and there's nothing anyone can do to slow Nugget down.
Next we move on to balance. Reese tries to balance on one leg, while Nugget tries to balance on two-each working with 50%! Nugget sits up on his back legs and another competition begins, this one to see who can balance the longest! It can go either way.
Finally, we try jumping – a skill which Nugget comes by naturally. As Reese attempts to keep his feet together while jumping, Nugget focuses on the treat in my hand and jumps to get it. Every time the child jumps, Nugget follows with his own jump. Reese is all about winning over Nugget, and Nugget is all about
the reward at the end of the exercise!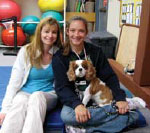 Because Reese focuses on Nugget, he does not realize how much better he is doing with things that normally are difficult for him. Reese trains his muscles to work the way they are intended to. With Nugget by his side he can do anything!
Kids Korps Summer Camp
by Charli King
Paws'itive Teams dogs, both therapy dogs and service dogs, were invited this past summer to help outwith the Kids Korps Day Camps in North County. The campers and volunteer counselors range from 7 to 16 years of age. Since the mission of Kids Korps is to develop leaders for life through youth volunteerism, we wanted to use our presentation time to educate the kids about the many ways dogs become volunteers too. We demonstrated a variety of tasks performed by both therapy and service dogs while also giving the campers an opportunity to become secondary handlers.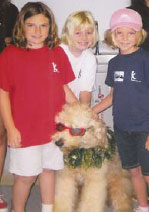 During this hands-on part of our presentation, the kids got to work individually with the dogs in a variety of exercises. At the end, they shared what they learned with the rest of the group. The kids enjoyed meeting the different dogs, which included Goldens, Labs, a Newfoundland, a King Charles Spaniel and a Golden Doodle.
Special thanks to all our volunteers and pups who took time to join us:
Carol Davis & Kona, Judy Fridono & Rina, Charli King & Kudos, D Moossa & Wally, Charlene Ranger & Macaroni, Sandra Younger & Terra and Rhiannon Ward & Nugget.
---
CAMEO
The three faces of our pioneer service dog
by Chris Marckese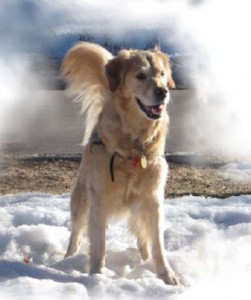 Last spring we said goodbye to a very special member of our Paws'itive Teams family. Cameo, our fi rst graduate service dog, passed away at the age of 11 after a 6-week battle with lymphoma. Nine years ago, Cameo was placed with Pam Albertson as her service dog. Cameo's life was full of purpose – she brought invaluable assistance and joy to Pam as well as to many others. In refl ecting on this spunky Golden Retriever that I was fortunate enough to watch grow from a pup into an exemplary service dog, I am reminded of the three faces she wore effortlessly.
Service Dog: First and most important, Cameo was part of a service dog team. Pam enthusiastically learned clicker training from during transition training with Carol Davis and continued to teach Cameo customized skills in order to increase her own independence. Pulling garbage cans out to the curb and carrying Pam's lunch bag into work are just a couple of tasks they mastered together. The synergy of this team developed very quickly. They seemed to bring out the best in each other. Pam was just as eager to teach Cameo new skills as Cameo was to learn them. They were inseparable. Not only did Cameo accompany Pam to work everyday, but also traveled with her on adaptive ski trips.
Paws'itive Teams Pioneer: It was the dream of Carol Davis and Charli King to start their own service dog organization using positive training methods and Cameo was the perfect prototype. Donated by breeder Dr. Joy Gyorgyfalvy, Cameo was an energetic, fast-learning puppy. Finding the perfect match for her was key and Pam was truely the perfect match. Pam and Cameo served as ambassadors for Paws'itive Teams doing countless demonstrations for clubs, schools and various other organizations. They attended ADI (Assistance Dog International) conferences and helped put Paws'tive Teams on the map in the assistance dog world. When it came to representing Paws'itive Teams, these two blondes simply shined.
Goofy Golden: Best of all, Cameo was a "take life as it comes and savor every moment" dog. She never met a mud puddle she didn't like, and every clump of dirt could be transformed into a mud puddle. Whenever Cameo was engaged in play with other dogs, one would always return to her owner happily covered in dirt—Cameo!. She proudly earned the nickname "pig-pen" as a pup. Cameo loved people as much as she loved other dogs, and she especially loved the attention people would bestow on her. She loved performing her skills for a crowd -evident by her constantly wagging tail!
There were many people who contributed to Cameo's successful service dog career. Carol Davis and Charli King raised, trained and socialized her, while structuring the new service dog program in which Pam and Cameo could fl ourish. Pam's family quickly accepted Cameo as a valued family member, providing loving support. Pam's boyfriend John loved, enjoyed, cherished, supported, and nurtured Cameo, especially in her diffi cult fi nal months. And of course there's the other half of this team – Pam.
She was willing to take a chance nine years ago with a new start-up service dog program.
Her can-do attitude and enthusiasm, matched with Cameo's brightness and unflappability, were the perfect ingredients for the pioneer service dog team of Paws'itive Teams.
Cameo will be greatly missed. But her legacy continues in every team joined together through Paws'itive Teams, in the past present and future.
A Personal Note…
by Pam Albertson
Cameo was more than a partner to me. She was the light of my life! For many years it was just the two of us and we did everything together – work, vacations, sports. I loved her spirit and zest for life. She never backed down from a challenge and was not afraid of anything. To me and everyone around me she was not just a service dog – she was my co-worker, my friend, and a part of my family. We all miss Cameo very much.
I would like to recognize Dr. Crosby Roper of Bay Park Pet Clinic (Cameo's veterinarian) and Dr. Brenda Phillips of the Veterinary Specialty Hospital in Sorrento Valley (Cameo's oncologist) for the incredible medical care they gave Cameo while she underwent her cancer treatments. Their efforts not only extended our time with Cameo but helped sustain her quality of life while she fought the lymphoma. I will be eternally grateful for the love and care that they bestowed upon her during this diffi cult time.
Dr. Roper and Dr. Phillips arranged for Cameo to donate her lymph nodes to science to help fi nd a cure for canine cancer. Live tissue samples containing cancer cells are necessary to further cancer research so Cameo still lives on and continues to help others despite her passing. I think it is a wonderful tribute to Cameo.
the ACVIM (American College of Veterinary Internal Medicine) Foundation which promotes research for fi nding a cure for cancer in animals. I was touched by this donation as well as donations made to Paws'itive Teams in Cameo's name. Thank you all for loving her so much and for honoring her legacy. She was an incredible service dog and a wonderful role model for service dogs everywhere!
---
GIVING AT WORK!
UNITED WAY/CHAD
It's easy! When you get your paper
pledge from work, just write in
Paws'itive Teams, our address and
phone number.
Paws'itive Teams
7031 Carroll Road
San Diego, CA 92121
858-279-7297
COMBINED FEDERAL CAMPAIGN
Are you a Federal employee?
Do you have any relatives or friends who
work for the Veterans Administration,
Social Security Offi ce or any other
Federal agency?
You can designate Paws'itive Teams
on your pledge form.
Paws'itive Teams

CFC #: 85391
MATCHING FUNDS
Many employers will match contributions.
DOUBLE THE VALUE
OF YOUR DONATION!
Ask for a form from your
Human Resources Dept then
send the form with your donation.
We'll do the rest!
ASSISTANCE DOGS INTERNATIONAL CONFERENCE
SUMMER 2008
by Denise Moossa
The British Guide Dog school, Guide Dogs for the Blind, hosted the International Guide Dog Federation in London this past summer. They merged their conference with this year's ADI (Assistance Dogs International) and IAADP (International Association of Assistance Dog Partners) conferences, making for a cosmopolitan group of attendees and a lively interactive learning experience. Combining the three meetings was a gift to trainers who use the 'Tool Box' training concept and enjoy receiving information from every form of training. The camaraderie was exceptional thanks to our host's well organized hospitality.
It was a privilege to represent Paws'itive Teams at the meeting and I returned with countless ideas: two in particular will be invaluable to our program, and a third one demonstrated an intriguing and controversial new approach to training dogs for the blind.
The Service Dog Application Process is the front line into all Service Dog organizations. The first step, via the website, needs to be user friendly and yet extract as much information as possible to help the organization understand an applicant's needs. The online form should "speak" to the applicant with a sensitive and caring voice, and the following stages of the application process should complement this introduction to Paws'itive Teams by presenting us as a professional group. Although our organization serves mainly those with mobility issues, I learned new slants on this subject, especially concerning the applicant's cognitive abilities, through two speakers from 'Guide Dogs for the Blind', a U.S. organization in Northern California. Pre-Application for Service Dogs Place Form
Animal Assisted Therapy and Autism A speaker from the 'Bocalan Foundation' in Spain probably offered the most impressive presentation I attended. His passion and skill in developing an outstanding program for a school serving autistic students was impressive. Some of these techniques will be invaluable to Paws'itive Teams' PAAT Program and its work at the ACES School for children with autism. The video he presented demonstrated multiple ways of using trained dogs to build a relationship with these students. For privacy reasons he was unable to offer a copy of the video, which was a great disappointment, but the exercises and games that I observed may eventually prove priceless in helping our PAAT Program to make a difference in the students' abilities to express themselves.
Clicker Training for the Blind Student This was a presentation from the USA's Guide Dogs for the Blind and could have been a conference in itself. Guide Dogs for the Blind believes in the active involvement of the blind person in the process of training and directly relating to their dogs, thus giving them more input, independence and control over the training process. Without much personal participation in training, many blind students simply feel passively 'led' by a dog trained by a professional trainer. The organization also believes that Graduates can perform their chores more effectively if the dog is taught where to go on a regular basis – a particular ATM, for example. A video showed an ecstatic student clicker training her dog with great success. Still under discussion, however, is the possibility that the dog will become so fixated on the student and the treats that he will lose focus on what a Guide Dog
should be doing: Guiding. for their human partners and "not take those eyes off the ball". I believe this concept will continue to be debated, although the speakers think that within the next twenty years all Guide Dog programs will teach their students to clicker-train their dogs.
In the future, I hope this trio of important organizations will again meet together to share ideas in conference. I felt fortunate to be exposed to a such a myriad of valuable ideas and information in just one short week.
---
Curl Up With a Good Book and Get In Touch With Your Inner Dog!
by Marilyn Davis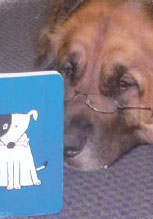 The success of books like Marley and Me and other canine-tinged tales of what dogs mean to us has started a satisfying trend. Below, just in time for comfy fall reading and early holiday shopping are reviews of other books that dedicated dog people will enjoy.
MEMOIR
The Angel by My Side (Mike Lingenfelter and David Frei)
Like Marley and Me, this is the story of a man and his dog, with a twist. Dakota, a Golden who enters Mike's life during his darkest hours, becomes much more than a therapy dog; their amazing bond is healing, humbling, and otherworldly. Keep the tissues handy because your heart will swell for this special creature, Mike's real-life spirit guide, who gives hope and life to others as he engages in a fight for his own survival.
OTHER NON FICTION
The Other End of the Leash: Why We Do What We Do Around Dogs (Patricia B. McConnell, Ph.D.)
You will learn as much about yourself as you do about your dog in this vividly written book about communicating successfully with our dogs. As closely connected as dogs and humans are, we are different species, and training becomes much easier once we take the advice offered in this book and become the dog." Observe your world through your nose. Think twice about hugging, staring at, and talking loudly and repeatedly to Fido. In short, speak dog and unlock the secrets in those furry heads.
On Talking Terms With Dogs: Calming Signals (Turid Ragaas)
Ragaas, trainer extraordinaire, understands a basic truth: dogs want to make friends. Most of their "language" is offered to that end. When they yawn, circle other dogs, blink, avoid staring, and perform countless other movements, they are offering calming signals that say "I just want to get along." When we learn to interpret, translate, and speak the same language, a world of closeness opens up with our canine friends. Discover this world in a mere 33 pages.
Leader of the Pack (Nancy Baer and Steve Duno)
Does your dog run your house, doing everything from stealing your possessions to practically scheduling your social engagements? Does he take you on walks? Chances are he doesn't want to. He wants a leader, and this book will show you how to enrich your dog's life by becoming an effective leader of his pack.
Clicker 101 Workbook (Carol Davis)
Belief in operant conditioning using positive reinforcement is the core commitment of Paws'itive Teams. In this practical instruction book, written by the Training Director of Paws'itive Teams, learn how to use basic clicker training skills to teach your dog to respond to you with pleasure—yours and his.
FICTION
Winter Study (Nevada Barr)
Barr's latest novel offers a glimpse of the psyche of wolves (and maybe our dogs when they are in touch with their inner wildness) in this beautifully written mystery set in the icy cold of deserted Isle Royale, in the midst of Lake Superior. The story is fiction, but the setting and the references to wolf research on the island are factual and vividly-described.
Dear Mrs. LaRue: Letters from Obedience School (Mark Teague)
This is a delightful children's book for readers of all ages. You'll laugh out loud at these letters written by a disgruntled canine sent to obedience school and at the clever illustrations, which show the school as
the pupil sees it—prison compound–and as it really is—lovely training and boarding facility.
ABOUT THE AUTHOR: When Marilyn Davis is not working on her latest novel or writing for our Newsletter, she is teaching Advanced College Writing at California State University at Fullerton where she has taught for 12 years. She has published creative non fiction, poetry, and critical analyses for Salem Press.
---
Saturday Morning, Just for Fun!
by Roberta Milstein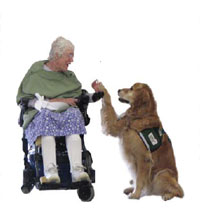 On alternating Saturday mornings Quint, my big golden buddy, and I go to a dog/handler class in Coronado, taught by Lee Wells. Quint is the only working service dog there, and enjoys socializing with fellow canines of all sizes and shapes! The class is fun and includes games but also has a serious side. Our dogs run through a maze to find the handler, run through tunnels to build confidence, and practice "stays" while the handlers put them in hoops for a game of tic-tac-toe.
We also practice stays with distractions and recalls with individual dogs or sometimes everyone together. Team races require the handler to hold a cup of water in one hand while the dog heels on the other side. Try that one with YOUR dog! There are figure eights and team weaves, where the dogs have to heel in different positions, ignore the other dogs and practice quick sits.
The class always ends with "challenges" in which we are challenged to teach our dogs something new in the next two weeks. This builds both the dog's and handler's confidence. Quint learned to "down" directly from a stand, which is handy in getting a quick response when I need one. He also learned "crawl", useful to get under legs of a chair at restaurants.
NEED HELP WITH YOUR HOLIDAY SHOPPING?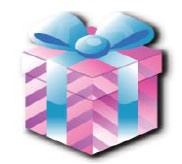 Looking for a gift that your loved one won't have to dust or pull out when you come to visit? A gift whose calories won't count? It's a "feel good" gift that keeps on giving.
Make a donation to Paws'itive Teams in honor of a friend or loved one and we will send the recipient a cheery holiday card notifying him or her of your gift.
It's simple! Complete the enclosed envelope with the name and address of the recipient and your name. Your gift will be tax deductible.
---
A special thank you…
Paws'itive Teams is supported by many agencies, companies, and individuals.
The following contributions were received since our last newsletter.
MEMORIALS
We extend our deepest sympathy to all of those who have lost
a loved one. Our sincere gratitude goes to those who have
contributed to our mission in the name of this person or beloved
pet. Through the loss of life, each of us reflects upon our own life
– this precious gift, so fragile and fleeting.
Given By
David Zuck
In Memory of
Mary Clare Schleisinger
PET MEMORIALS
Given By
Nancy Buske
Carol & Jeff Chang
Carol Davis
Gayle Isermann
Charli King
Erica Knowles
Dave & Brenda Krister
Barbara McKown
Myrna Tenebaum
Clara Yourman
In Memory Of
Harley Frohlich
Samatha
Cameo
Roxie
Vanessa
Cameo
Cameo
Corinne
Sadie
In Honor of…
Given By
Lois Barton
Hans & Sharon Bissinger
Lynn Chavez
Mary Dreifuss
Dede Goldstein
Paul Kauffman
Brendo Krister
Barbara McKown
Roberta Metafora
Mike & Penny Moreau
Kathy Pickard
Linda Sanyshyn
In Honor of
Betty Davis 90th Birthday
Ian & Amber
Chris Marckese Birthday
Stan Racik
Wicker's 10th Birthday
Vargas/Rauber Wedding
Chris Marckese Birthday
Vargas/Rauber Wedding
David & Barbara Mittleman
Len & Barbara Gosink
Chris Mackese Birthday
Chris Mackese Birthday
Individuals
Shannon Anderson
Gail Anrade
Terry Armour
Suzanne Barclay
Janet Bayless
Cheryl Bramly
Art Brauner
Steven Bugg
JeanBurwell
Elaine Butz
Charmion Cato
Liz Collumb
Karen & Ed Colson
Patricia Dibos
Shandon Eales
Hal Frank
Elvira Gibbings
Barbara & Len
Gosink
Patricia Haines
Lynne Hiatt
Eleanor Hodge
Kathleen Hurder
Nancy Iverson
Sumi Kim
Peggy Lanier
Herb Lurie
Kelly Ma
Shirley Mann
John McKeown
Denise Moosa
Jeanette Nelson
Luara Otis
Patricia Pual
Madeline Quin
Donna Racik
Stan & Gerry Racik
JM Rees
Judith Rolfe
Cindy Ross
Linda Roth
Nancy Salisbury
Peggy Sbardellati
Brenda Scott-Mead
Suzanne Smith
Kelly Stack
Julie Still
Tomoko Sugiyama
Dale Sutton
Danielle Theule
Linda Truesdale
Christy Whalen
Susan Wilson
Linda Wilson
Marilyn Wilson
Sonya Wilson
Grants
Alpine Lions Club
Henry Bull Foundation
Rancho Bernardo Kiwanis Club
Las Primeras
Rancho Bernardo Leos
Rancho Bernardo Lady Lions
Perforce Foundation
Sunrise Rotary Club (RB)
Toby Wells Foundation
Building Fund
Anonymous
Gail Andrade
Art Brauner & Brenda Scott-Mead
Denise & A.R. Moossa
Stan & Gerry Racik
Linda Truesdale
Puppy Sponsor
Joan Henkelmann
sponsored
Labra Doodle Charley
in memory of
Charley Henkelmann
Vanessa Emergency treatment Fund
David & Catalina Preskill
Other Donors
Albertsons Groceries
Ben & Jerry Fund Raiser
Local Independent Charities
Seaside Center for Spiritual Living
United Way
---
Our New Digs
9225 Chesapeake Dr. Unit B
San Diego 92123