Pawsitive Tales Volume 27, Issue 1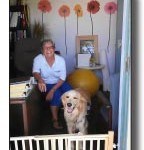 Mary and Sereja in their office at
O'Farrell Charter School.Sejera has been working as a Facility Dog at O'Farrell Charter School since September 2013. O'Farrell consists of grades Kinder through High School and is located in Southeast San Diego.
Sejera spends most of her time in Family Support Services, where she greets every one coming in, hangs out with kids and families, gets lots of belly rubs and plays fetch over and over. No matter where she goes on campus, you can hear the kids and the staff saying, "Hi Sejera, how are you today." She has become a real asset to the school.
During the day Sejera gets to walk around the campus on her way to meetings, visits kids in the P.E. area (where Ms Yeager hides treats for her in her desk!), visits the elementary school classrooms and always stops in the front office to see the great staff there.
Mary asked the children recently to share their feelings and was touched by their simplicity and honesty. Below are excerpts from several letters, with some of their
artwork too.
Also, there is a great article written by Antonia Malchik on the Medium/Bright website. Titled "What if Schools Hired Dogs as Therapist"
"Sejera is encouraging. She makes people feel good about themselves." Janice

"Sejera encourages us to work extra hard. When we do, we can see Sejera." Cynthia

"Sejera helps us with our school work. When we are having a hard time with our work, our teacher tells us we can visit Sejera." Nicolle

"She helps us not to worry about problems we have. For example, when you get in trouble, she calms you down." Lucia

"I was having a hard time focusing in class but now I am finishing in class all of my work then I get to visit Sejera. Sejera is my friend. If you don't have a friend, she can be your friend." Inina

"We can read to Sejera. She makes us feel good and helps us become better readers. Sejera is a super dog." Janice

"Sejera helped me when I got in a car crash. One day on my way to school, my mom and I got into a car accident. I still went to school but, when I got there, I was scared. I felt terrible. My teacher let me see Sejera. As soon as I saw her and felt her soft fur, I felt better. I wasn't scared anymore. I was able to go back to my class and have a good day. I am thankful for Sejera." Maria Elena

"Sejera helps us when we are mad and she makes us calm then she makes us happy. One of the reasons she makes us happy is that when we pet her it makes us happy inside because it makes us feel good. Everyone smiles when Sejera is close by." Teresa

Mortgage Elimination Campaign

Can we do it? Wow!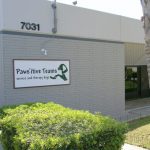 by Art Brauner
In the Spring 2014 Newsletter, I announced a goal of reducing the mortgage loan on our Training Center to less than $100,000 by the end of Fall 2014, and in the Fall 2014 Newsletter I reported that we had more than 60% of the goal either in-hand or pledged.
Thanks to a phenomenal response from our dedicated supporters in the closing months of 2014, not only did we meet the goal at year-end of reducing the mortgage loan to less than $100,000, we were actually able to reduce the loan to just over $45,000. Many thanks to all of you who gave so generously to this campaign last year and allowed us to not only meet, but greatly exceed, our original goal.
Are we ready to set a new goal for 2015 of eliminating the mortgage loan in its entirety by July 15 of this year? Based on donations earmarked for the mortgage elimination campaign received since January 1, and we are currently making, we will need to raise just over $30,000 between now and July 15 in order
to achieve this important goal. Hopefully we can meet this final goal and celebrate the burning of our mortgage loan papers on July 15!
Once we eliminate our mortgage, one of our most significant monthly expenses will be eliminated and the long-term future of PT will be assured.
PHOTO TILES
Don't forget that individual (or family) donors to the Mortgage Elimination Campaign who donate $500 or more will be given an opportunity to provide a copy of their favorite photo of their dog (living or past) and their donations will be recognized by printing their dog's photo and name, and the donor's name(s) on a handsome tile that will be mounted in the lobby wall of the Training Center. This is a great way to provide a lasting tribute to your dog while providing very important assistance in eliminating our largest cost center.
Canine Jeopardy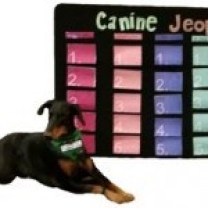 by Penny Holder
Canine Jeopardy is a great example of everyone coming together to create an experience that is both educational and enriching for everyone involved. This is our second year of the Community Service
Program which is held at the San Diego Center for Children. Experienced teens become therapy dog
handlers and mentor the younger children at the Children's Center. They teach the "littles" about dog health, well-being, grooming, and dog etiquette as well as demonstrate the many talents of each dog. This year we had three awesome dog teams and brainstormed in advance ways to add variety to our program, keep our younger children engaged, and make sure we also teach valuable information.
Our solution was Canine Jeopardy! The adult teams came up with categories and questions. Rachel
Hammersley, Life Skills Counselor for San Diego Center for Children, magically transformed the raw material into a colorful display worthy of Alex Trebec. We reviewed with the teens the questions and the kind of information we needed to cover in our sessions then debriefed each week to make sure we were on track delivering the information the children would need to feel successful at the end of the
program. Each category and question was numbered. The younger children roll the dice to make their selection of category and question then get to demonstrate what they had learned in the past four weeks while participating in an engaging game. All agreed it was a great hit.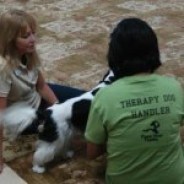 by Rachel Hammersley
Life Skills Counselor
San Diego Center for Children
Since we began our partnership with Pawsitive Teams back in 2013, it has become a beloved part of our curriculum for all the teens who participate.
The Community Service empowers our teens who are then able to give back to their younger peers, lovingly dubbed the "littles." It gives the teens an amazing opportunity to turn any hardships they have faced into a platform with which they can connect with and, in turn, empower the "littles."
The volunteers and their therapy dogs give the teens the tools they need to facilitate the group. It is not uncommon for the "littles" to come up to the teens around campus long after the program has ended to say hi and share how they are doing.
The San Diego Center for Children serves the youth and their families in our community. Our mission, to protect the joy of childhood, to prevent emotional suffering, and to incite change, is brought to life through several different community programs. Our children and teen residential programs house youth in a therapeutic environment that gives them the space to address their needs.
Our 365 day facility supports these youth through any struggles they may face. Our goal from day one is to improve their livelihood and graduate them from our program successfully.If you are interested in learning more about the San Diego Center for Children and the many services we offer, please check out our website: www.centerforchildren.org
"Show Me Your Belly Button"
(and other useful changes)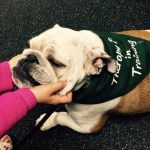 by Marilyn Davis
Our Therapy Dog Prep School (therapy dog training classes) instructors meet at least once a year to discuss changes in curriculum to make class more effective. Here are three recent changes that will give you even better tools with which to help others and your dog.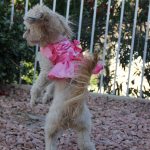 1. Tricks: We now challenge our students at our first class to teach their dogs a new trick useful for a
therapy visit. As a part of graduation six weeks later, they demonstrate the trick and entertain us all. For instance, at our last graduation, our English Bulldog, Peaches, performed "show me your belly button"
(translation: she rolled onto her back), which not only perfectly suits her since she is marvelously lazy but also had us roaring since –don't tell her I said so – she has no waistline at all. Kierra the Rottweiler did a "hug" (paws up on the handler while he was kneeling): big crowd pleaser. And Bella, a small rescue dog who likes to jump up on people, learned to "dance" on two feet, which accommodated her compulsion to jump but eliminated contact with others, thus creating a positive action for therapy work.
2.Videos: Rather than view various videos in class, we now send these to our students to view at home (at their own convenience), then discuss them in class, a more efficient use of time. For example, our "Signs of Stress" video helps handlers become better observers of their dogs' body language. Now they can watch it more than once and come to class with a list of stress signs they observed. Along the same lines, we have changed the format for our 6th class. Previously, an attorney spoke about liability regarding therapy dogs. We now have recorded the talk on video. Students view it at home, and we now have more time in class to discuss this important topic.
3. Pills on the floor: pills on the floor, pills on the floor, . . . . We bombard our students each week with the life and death business of laser-like awareness of one's dog anywhere pills might be found. It is not
uncommon to find pills on the floor at any senior or health care facility. We have increased the level of exposure in class by scattering a LOT MORE "pills" (tic tacs) around the training floor each week, creating many real life situations to discuss and solve. And trust me, the dog with the best breath each week does NOT get the gold star. (By the way, don't leave the pill on the floor if you find it; give it to a staff member—never to a patient).
We have even more fun now. We are more effective now. Stay tuned as we continue to improve for
ourselves, our dogs, and our community.
Erich and Stark


SERVICE DOG TEAM
Spring 2015
by Erich Allman
Pawstive Teams has forever changed my life. I was seeking a service dog to assist me in dealing with daily life as my PTSD hinders me from participating in everyday activities. For many, going to the grocery store or eating out at a local restaurant is a "normal" everyday activity. However, for someone like me, living with PTSD, these daily activities can be overwhelming.After reviewing the mission and purpose of Pawsitive Teams, I sent them an inquiry.
Shortly after completing the preliminary application, my wife and I had the opportunity to meet with Carol and Brenda for an interview. They explained the process in its entirety and I felt at ease talking to them because they were empathetic when it came to my needs. At the interview, my wife and I also had the opportunity to meet Stark for the very first time. We knew Stark was very special and we were optimistic that it would be a great fit.
During training, I was given the chance to work with Carol and Elaine and was not only taught the techniques on how to work with Stark, but was also given handouts, lectures, books, and assignments. All of these were very helpful because it allowed me to learn more about the various techniques used and make sure that I was able to properly handle having Stark as my partner. I also had the opportunity to train with Stark outside of the facility. From going to Costco to participating in the Navy Woof Walk, Pawsitive Teams was there for me throughout the entire process.  After months of participating in the transition training process, I felt confident to begin my life with Stark. I am a witness to the dedication, compassion, and expertise of the trainers from Pawsitive Teams.
Stark is finally home with me and I will be forever grateful for this great organization. My wife and I have committed to do what we can to be contributors to Pawsitive Teams to make sure that other people in need will also have the same opportunity that I was given.  Lastly, I want to thank Carol for her kindness and for trusting me with Stark.
A Trainer's Perspective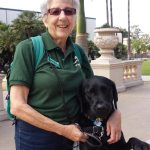 by Carol Davis
While the Pawsitive Teams service dog mission has always been to specialize in training dogs to place with those with mobility limiting disabilities, we are aware of the increased needs with veterans diagnosed with Post Traumatic Stress (PTS).  Since Stark had the personality and temperament best suited for an able bodied, hyper-vigilant partner, we chose to actively seek a veteran placement for him. This first placement was designed as a pilot project. As always, PT devotes a great deal of time in selecting the right person for the right dog to better guarantee success with the match. When Erich applied, we sensed that he had the skills to work with this very alert dog, who could in turn help him feel more relaxed and comfortable in public settings. As we often said throughout the transition training, Stark could watch Erich's back while knowing that Erich would indeed watch his back.
We were fortunate to be able to include Elaine Snavely as a part of our transition team. Elaine is truly the subject expert. While a member of our service dog training team, Elaine is also a veteran with PTS who uses a service dog to help her overcome her own insecurities in crowded places. Many times throughout transition training, I would sit back and watch Erich and Elaine work together and knew we were on the right track. They have both taught me a great deal. Thanks to Erich's openness, honesty and willingness to share his world with me, both Stark and I adjusted and moved forward with confidence.
Stark and I were together for over two years and I helped shape him in many ways yet I knew he had a greater calling and that he would become a vital part of Erich's recovery. And now, Erich has become a friend who will continue to support PT and help us with our ultimate mission to give people greater independence.
C I C R
Canine Inspired Community Reintegration
by Kim Elliott,
Recreation Therapist
Pawstive Teams and Naval Medical Center San Diego's Wounded, Ill and Injured Wellness staff have formed a valuable partnership that has resulted in the CICR Program (pronounced Seeker.) The program was started in 2011 by Marla Knox, Recreation Therapist, after she read an article on the benefits of Service Dogs with people with chronic PTSD. Marla then contacted Carol Davis and
Myrna Tenenbaum for their assistance and expertise. Together, they created a very unique program at the Naval Medical Center which has evolved into our current CICR program.
CICR is a layered, six week community based clinic that helps service members successfully reintegrate back into the community using the medium of canine therapy. The clinic has a maximum of 6-8 participants and is deliberately kept small. Some of the challenges participants face are isolation, hypervigilance, crowds and being able to do things that we often take for granted like go shopping and out to the park. The program runs for six consecutive weeks and each service member is assigned a PT certified therapy dog team. The PT volunteer assists the participant in dog handling skills, along with providing a listening ear. Meeting locations get progressively more challenging and the primary mission is for the participant to be out in public. There is always a secondary mission, such as a scavenger hunt, talking to strangers and interacting with other dogs present.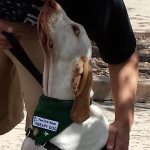 Besides our community reintegration goals, there is a strong leisure education and resource component to the CICR program. We want to give service members a chance to experience or "test drive" having a dog beside them in public and to have them consider what type of dog would best fit their needs. Do they need a pet, an emotional support dog or a service dog? Where do they go to figure out their next step?
Each week, the PT volunteers help to monitor participants' pain and anxiety levels, socialization skills, and hyper vigilant behavior. Since keeping track of statistics on pain and anxiety levels for the past year, there has been a marked decrease in the participants' anxiety pre/post clinic. After completing the six week course, our service members receive a certificate of completion along with a letter of recommendation about their training skills that they could use if they decide to apply for a service dog.
Thank you to all the Pawsitive Teams volunteers who have contributed and given back so much to those who have served our country so well.
Challenges at these locations (Balboa Park, Lowes, a mall, Walmart, etc) include going down crowded aisles, having children run up to pet the dog and having strangers approach asking what we are
doing. Some of the benefits of having a calm and well-trained dog beside our participants are:
Creating personal space (the dog posts in front or in back)
Alerting to strangers (the dog stops or turns its head towards the person)
Helping the person feel more grounded (the dog leans into the handler in a crowd) Since energy travels up and down the leash, participants are learning how to read their dog's body language and notice subtle cues so that they are able to relax, trust their dog and be able to be more present and worry less about any imagined threats.
An Average Day For A Pup
being trained by an Athletic Trainer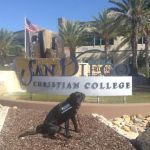 by Carolyn Peters
For the past 13 years I have had the amazing opportunity to train service and facility dogs for Pawsitive Teams (PT). Because of my job as an Athletic Trainer for a University, my charges have had the opportunity to work on a college campus and assist me with my profession. What do we do in an average day? Most days start with a 6:15 am training session with the soccer team where I can implement the prevention part of my job, ensuring that the athletes are strong and flexible. Manny (my current service dog in-training) is there to greet the athletes and help me get some equipment ready by bringing out jump ropes and medicine balls. Since Manny's best human friend is a soccer coach, I take advantage of that relationship to work on excitable greetings and "find Cameron." Both seem to enjoy that last exercise (and it helps train the human too.)
After some nap time under the desk, Manny helps me reassure injured athletes by bringing a smile to them, even when they are at their lowest point. Sometimes he even gets in on the action and helps with rehab. Having an athlete balance on an inflated disc while throwing the ball for Manny and having him bring it back allows me to work the athletes' proprioception (awareness in space) and strengthen the lower leg while they both have fun. Now it's off to practice. The athletes enjoy him being on the practice field and it gives me a chance to work on impulse control. While he does extremely well not wanting to chase the balls, I have to keep a look out for sunflower seeds on the ground. He loves those things! After a long day and into the evening, it's finally time to do some service dog skill training at the house before dinner and bed.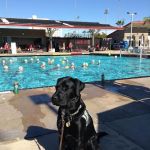 In the coming months, Manny will fly with me to Dallas, Omaha and St. Louis for athletic training meetings and symposiums. By the time he is ready to be matched as a working dog, he will have experienced planes, trains, shuttles, buses, cabs, hotels and a bunch of other fun adventures. Manny is a wonderful traveler and people notice his good behavior especially when other dogs aren't doing so well. Since he is close to 80 pounds now, I'm thankful for the bulk head seating. Before he turns 2 he will have been to 10 states including the District of Columbia. So, as he lays comfortably at my feet in our hotel room, I appreciate the short time we have together and am thankful for our adventures before he moves on to be an amazing service dog.
The Adventures of Team Atti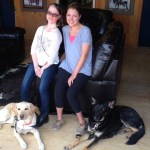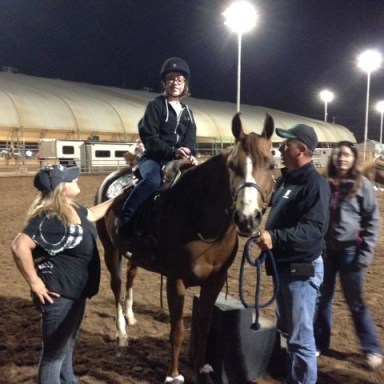 by Kathy Milburn
Scottsdale, the land of saguaro cactus and desert landscape, is also the site of one of the most prestigious Arabian horse shows in the world. We were invited there to meet up with Tabitha Bell, co-founder of Pawsitive Pawsiblities, the organization that donated Atti's placement fee.
At 14 years old, Tabitha is an accomplished rider and has a heart the size of Texas. She uses her
amazing service dog, Sunny, to help her with balance and walking assistance. We went to Scottsdale to watch Tabitha ride and win. She and her horse partner, Stella, were magnificent, moving in perfect sync with one another. Stella is trained to voice commands and the team's performance was flawless.
The show grounds were enormous, and Team Atti had the opportunity to experience horses of all sizes, shapes, ages and activity levels. Curious, Atti checked them out, but after awhile, she looked at them as she would big dogs. Calm as a cucumber, we strolled the grounds, got up close and personal with some rescued hawks, and even rode in a golf cart. Atti acted like she had been on the horse show circuit all her life.
In the evening, Tabitha's trainer offered to help Mary Katherine ride Stella. Mary was thrilled and a little nervous as she stepped into the large practice ring with the professional level riders. Tabitha watched eagerly as her team helped Mary mount Stella, mindful of her abilities and excited for her experience. As Atti lay watching from her down position safely out of the way, she was clearly anxious for her girl. Ears forward, focused on the activity and that giant creature Mary was getting on, she was on alert. After all, it's not every day that your partner leaves you for a horse. Around the ring they went, a giant smile on Mary Katherine's face. It was hard to tell whose smile was bigger: Mary's or Tabitha's.
Tabby was so happy just to share with Mary the experience of riding and moving in a way their legs can't carry them.
Saying Goodbye to My Sweet Sydney
by Christie Childers
How do you say goodbye to a dearest friend? I'm finding the most helpful way for me has been to remember how my life was changed just by having Sydney in it! When I first met Sydney in 2003, I thought she was a remarkable dog, but I had no idea how amazing my life would be as this dog's partner. I never imagined she would add so much life to my living. From the moment she came into my life, I knew love. I was living alone in San Diego and not even aware of what I was missing. Sydney was this gentle beauty who captured the hearts of so many…so quickly. She made an impression on everyone she met. And through her, I was able to be a part of that.
Though she was my service dog, she provided therapy to those around us. I remember people saying just having her near, or watching her exuberantly chase the ball, or even caving in when she came looking for treats, gave people such joy; she truly was a gift to this world and I was the greatest recipient. Sydney gave me the courage and confidence to be so much more than I ever thought possible. We moved across the world together and saw so much.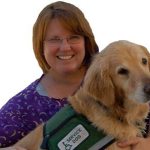 I am grateful to Pawsitive Teams and Chris Marckese for blessing my life with this gift named Sydney. I can't believe how fast the past years have gone by. I have cried a lot since losing this dear girl. And oh, how I miss her! But, I'm lucky to have had something so amazing in my life that makes saying goodbye so hard. I am so much better, just for knowing her.  I love you, my sweet Sydney. My hope for you is that all your fields be green and your balls be plentiful.